Return to Tower Building page.
SOUTH PANEL 3 LEFT HAND VIEW
<<--PREVIOUS What does this frieze symbolize? NEXT -->>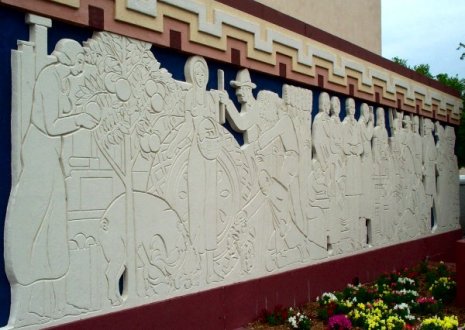 This frieze, which "reads" from right to left, shows a locomotive, representing the coming of the railroads to Texas, some Texas Civil War soldiers, an Indian watching cowboys branding a calf, symbolizing the Cattle Industry. The other figures symbolize the founding of Texas A.&M. University and the University of Texas, with Dr. Ashbel Smith (hands clasped) in the center. Other figures symbolize General Agriculture, Animal Husbandry, and the Citrus Fruit Industry of Texas.
Source: Dallas Morning News, Dallas, Texas, June 14, 1936.
This website copyright © 2002-2005 by Steven Butler. All rights reserved.