The Miles Family
By Steven R. Butler
The Miles Family
William B. Miles | John W. Miles | Charles W. Miles
---
A Brief Biography of
CHARLES "Charlie" WESLEY MILES
(August 18, 1885-February 23, 1958)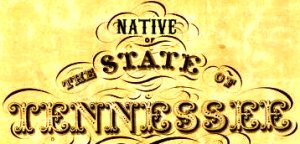 My paternal grandfather, Charles W. Miles, was born on August 18, 1885 in Franklin County, Tennessee. He was the only known child of John W. Miles and his third wife, Margaret Elizabeth Hodge Miles.
In December 1885, when Charlie was only four months old, his father, John W. Miles, abandoned him and his mother, and ran away to Alabama with Mary Alice Hefner, a woman with whom he had been consorting during his marriage to his second wife, Kate, and also during his marriage to Charlie's mother, Margaret. When John W. Miles left, without giving a reason or any warning, he had already fathered three children with Mary Alice, including one that was born in September 1885, just a month after Charlie. In Alabama, J.W. and Mary Alice had two more children before moving to Texas in 1893, where they settled first in Collin County, and then Hunt County. They also had four more children, for a total of nine. Whether or not Charlie ever met any of them is unknown.
In 1892, Charlie's mother was granted a divorce from her absent husband. Soon after, in 1893, she married Seaborn E. Jones, by whom she already had two daughters, Daisy and Nettie.
Margaret and her second husband, S. E. Jones, are listed in the 1900 federal census for Franklin County, Tennessee, with five children in the household. For some inexplicable reason, Margaret's eldest son, Charlie Miles, is listed in the same census as the "adopted son" of Benjamin W. Rhoton, Jr. and his wife Laura Farris Rhoton. The nature of the Rhotons' relationship to Charlie Miles, if any, is unknown, but it should be noted that when John W. Miles married Margaret E. Hodge in 1884, his fellow bondsman was John T. Farris, brother of Laura Farris Rhoton and brother-in-law of Benjamin W. Rhoton, so clearly the two families had ties of friendship, if not family ties.
Sometime between 1900 and 1908, Charlie Miles left Franklin County, Tennessee and went to live in Dallas County, Texas. How he made the journey, and when, and his reason for doing so are all unknown, but I speculate that he came to Texas because he was offered a job in the general store that Benjamin W. Rhoton's brother, Junius Tribble Rhoton, was then operating in the little community of Audelia, located three miles south of Richardson, Texas, at the present-day intersection of Forest Lane and Audelia Road. Until 1900, Rhoton was also Audelia's postmaster. Charlie may have also been encouraged to settle in Dallas County by the fact that two of his stepbrothers, Charlie T. Jones and Jesse H. Jones were then farming in the vicinity of the town of Garland, Texas, not far from both Richardson and Audelia.
Sometime after he arrived in Texas, Charlie Miles somehow became acquainted with Lillian Jane Dalton, daughter of James Franklin Dalton, a farmer who lived near the tiny community of Vickery, located a few miles south of Richardson. On September 27, 1908, Charlie and Lillian were married by the Reverend George Truett, pastor of the First Baptist Church in Dallas. A report of the wedding in the Dallas Morning News remarked that the newlyweds would be making their home in Richardson. The precise location of their rented home has been lost to history, but Richardson was a very small place then, and it was almost certainly somewhere within two or three blocks of the intersection of present-day Main Street/Belt Line Road and Greenville Avenue.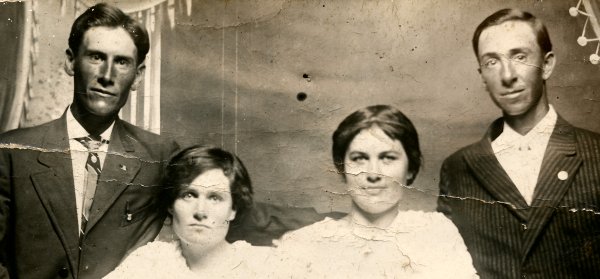 Charlie Miles about 1908, with wife Lillian Dalton, and another young couple.
Whether or not Charlie ever knew his father was living only about 30 miles or so north, in Collin and Hunt counties, until his death in 1928, is unknown.
When he was a young man, Charlie ran a livery stable in Richardson. Owned by Mr. Fred Farrell, it was located about two blocks north of the intersection of present-day Main Street/Belt Line Road and Greenville Avenue. How long Charlie held this job, and precisely when, is unknown. The business kept horses and buggies to rent. People who traveled to nearby Dallas or Plano by train from Richardson could leave their horses and buggies or wagons here until their return. As the automobile began to become more commonplace, Farrell sold the business to Luther Terry and John Robinson, who in turn sold out to the Texas Electric Railway when its "Interurban" service began operating out of Richardson.
The 1910 federal census for Justice Precinct 2 of Dallas County, Texas includes Charlie Miles, his wife Lillian, and their one-year-old daughter Willie Mae, who was born in Richardson on August 1, 1909. At that time, the Miles family rented a house in Richardson. Charlie's occupation was given as "farmer laborer," although it's not known who employed him. Their nearest neighbors included members of the Blewitt and Huffhines families, both of which were prominent in Richardson at the time.
On July 6, 1911, Charlie and Lillian's second child, Lorene Marguerite Miles, was born in Richardson. Their third and last child, and only son, Roderick Vernon Wesley Miles, was born in Richardson on March 18, 1913.
When his son Roderick was born, Charlie's occupation was given on the birth certificate as "road laborer."
Although automobiles had been manufactured and sold in the United States since the mid-1890s, it was not until prices began to go down in the second decade of the twentieth century that automobile sales correspondingly increased. This growth in automobile ownership led to a subsequent demand for good roads, and in Dallas County, Texas, Charlie Miles was there at the very beginning of a road-building boom that continued unabated throughout the first half of the twentieth century.
Sometime between the birth of Roderick in 1913 and Charlie's registration with the draft board on September 18, 1918, the Miles family went to live in or near the rural community of Vickery, located near the present-day intersection of Greenville Avenue and Walnut Hill Lane, where his in-laws, the Daltons, resided. On his draft registration card, Charlie not only included his middle name, Wesley, in his signature, but also gave his occupation as "Road Supervisor" rather than "laborer." The following year, the Miles family moved to East Dallas, where they rented a house at 1426 Rowan Avenue. In 1920, a carpenter/contractor named Herman H. Butler, his wife Alice, and their three children-Henry, Margaret, and Ruth-purchased the house next door, at 1428 (later renumbered 1432) Rowan Avenue.
Because they were all nearly the same age, and lived next door to one another, it seems only natural that the Miles children and the Butler children would become playmates, a fact that is confirmed by a 1925 feature article in the Dallas Journal, which included a photo of some of the Rowan Avenue neighborhood children, in which they are identified by name and address. In the photo, ten-year-old Ruth Butler is seen standing directly in front of slightly-older Willie Mae Miles. Roderick Miles, holding a horse by the bridle, is also seen in the photo.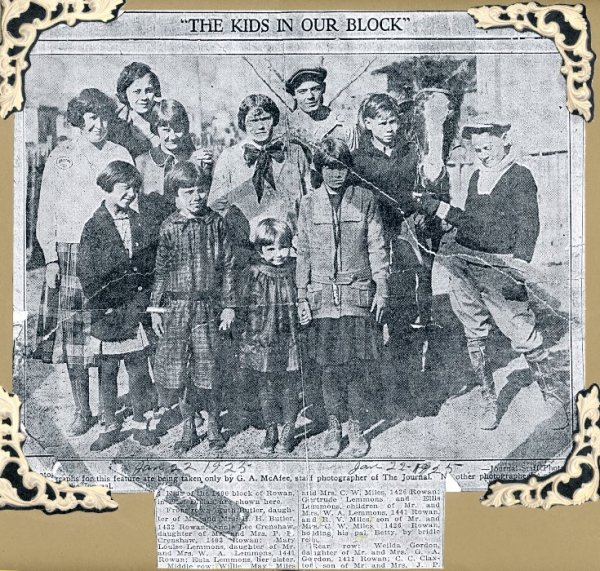 "The Kids on the Block," Rowan Avenue, Dallas, Texas, 1925; Willie Mae Miles and Ruth Butler on extreme left, Roderick Miles holding horse bridle on right.
Sometime in March or early April 1927, owing to circumstances that are completely unknown to anyone living today, Charlie W. Miles and his neighbor, Alice Tate Butler, both forty-one-years-old, had a secret, intimate liaison that resulted in Alice becoming pregnant. Whether their relationship took the form of a "one-night stand" or a long-term "love affair" is unknown. Nor is it known whether either of their spouses knew of the affair or liaison.
On Wednesday, December 21, 1927, Alice Tate Butler gave birth to a child fathered by Charlie Miles. Whether Alice's husband, Herman, believed the child to be his own or if he knew or even suspected that it wasn't is unknown. Nor is it known whether Charlie Miles knew the child to be his, or if he only suspected that it might be.
In any event, apparently by mutual agreement, either spoken or unspoken, Charlie and Alice decided to let their friends, family, and neighbors believe that the baby boy to which Alice had just given birth was her husband's and consequently, he was named Raymond Joe Butler, taking the surname of the man--Herman H. Butler--who in effect adopted the boy as his own, even if he did not do so knowingly.
It's easy to understand why Charlie and Alice chose to keep Raymond's paternity a secret. To reveal it would almost certainly have resulted in two divorces and two broken families. It would have also subjected both parties, as well their child, to the scorn of disapproving family, friends, and neighbors. For Alice, owing to the double standard that then prevailed, the shame and disgrace would almost certainly have been unbearable. Without a husband, she would have been forced to raise Raymond on her own, and without any marketable skills of any kind, the only kind of work she would likely be able to find would have been low-paid and menial.
Following the birth of Raymond, the Miles family continued to live at 1426 Rowan Avenue for two more years, leading one to wonder if during all that time Charlie ever had any interaction of any kind with his new son. Surely, he saw the boy from time-to-time, and when he did, one cannot help but wondering, did he feel any guilt, any shame, or any fatherly feelings? On the other side of the fence, so to speak, did Herman Butler ever suspect that little Raymond was not his? If so, there is no evidence, anecdotal or otherwise, that he ever treated the boy any differently from his other children. This suggests he believed the child was his.
About 1930, Charlie Miles and his family moved to 5218 Garland Avenue (only a mile northeast of Rowan Avenue), where they lived in a modest frame house that is still standing. In 1933, they moved again, this time to 701 First Avenue (no longer standing), about a mile-and-a-half west of Rowan Avenue. Four years later, they moved a mile-and-a-half in the other direction to 711 Wayne Street (still standing), where they remained only two years.
From 1940 or '41 to 1944 or '45, the Charlie Miles family resided at 5605 Worth Street, in another East Dallas house that is still standing today in Junius Heights, about two miles north of their previous residence on Rowan Avenue.
It is interesting to note that from 1927 to 1944, while Raymond Butler was growing up on Rowan Avenue, his real father never lived more than two miles away. It was only after Raymond was out of high school, or nearly so, that Charlie Miles and his family moved to a more distant address, 2311 Burbank Street (no longer standing), only a few blocks west of Love Field Airport but. eleven miles north of East Dallas. Whether this was deliberate or merely coincidental is unknown.
The last house in which Charlie and his wife Lillian resided was one they purchased in 1945 for $1,200. It was a modest frame house located at 9809 Denton Road, just a few blocks north of Bachman Lake.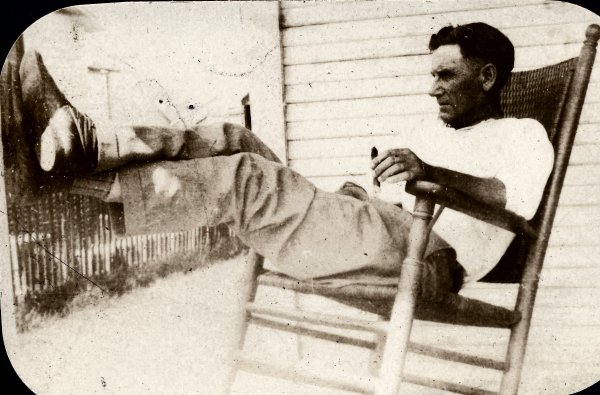 Charlie Miles in middle age.
Charlie's Occupation
As previously noted, as a young man Charlie worked in a livery stable and as a farm hand. From about 1913 until he presumably retired in 1950 at the age of sixty-five, he worked for the Dallas County Road and Bridge District No. 1, first as an ordinary road laborer, and then, from about 1920 onward, as a road building crew supervisor or foreman. Throughout the 1920s, his boss was County Commissioner J. W. Slaughter, who during his term of office, hosted an annual celebration each September at the county shop in Farmers Branch, which Charlie and his family almost certainly attended.
The fact that the county shop was located in Farmers Branch means that Charlie almost certainly had to commute to work from East Dallas by automobile since there were no streetcar lines that extended past the city limits. What sort of automobile(s) he owned is unknown, but during that period the Ford Model T was one of the most popular.
In 1925, the Dallas Morning News reported that Road & Bridge District No. 1 received $260,310.86 during the year, of which it had a credit or $7,374.49 at the close of the year.
In 1931, after Tom Field became Commissioner of Road and Bridge District One, the county shop was moved to a new location on Joe Field Road, in what was then unincorporated county land near Farmers Branch, between present-day Harry Hines Boulevard and Newkirk Street. At that time, the Dallas Morning News revealed that Commissioner Field was building five houses "for rent purposes," as well as a store building, "down where the new county shops have been located." The news speculated that a "little community will build up around this new county shop and works," and indeed it did (it was called "Field City"), but Charlie and his family never lived there, apparently preferring to reside in East Dallas.
In 1937, when the Dallas Morning News reported the County Commissioner' Court budget for the coming year, among other things they noted that C. W. Miles had been reappointed "highway asphalt foreman at $187.50 a month."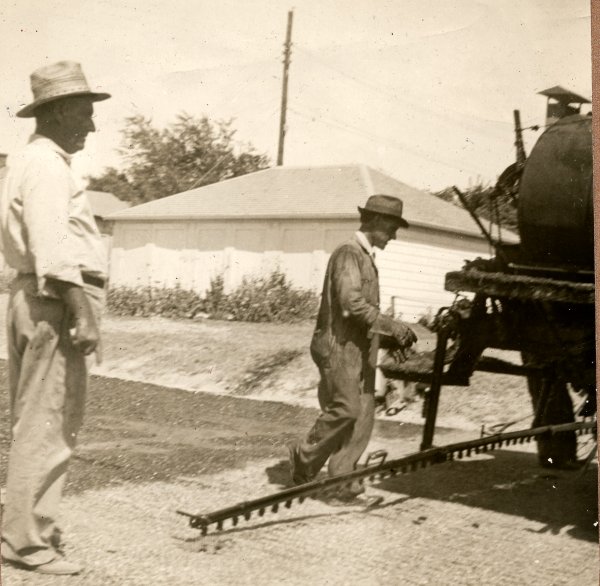 Charlie Miles at work, somewhere in Dallas County, Texas, date unknown.
Over the years, Charlie Miles was briefly mentioned in other reports in the Dallas Morning News, the Texas Mesquiter, the Carrollton Chronicle, and the Richardson Echo, in connection with his job as a road building crew foreman.
During the 1940s, Charlie's boss was County Commissioner Lynn Lawther, with whom it appears Charlie made friends. On one occasion, when Lawther was running for reelection, Charlie personally paid for a political ad, urging people to vote for Lawther, that ran in the Dallas Morning News.
Charlie's Last Years
In all likelihood, Charlie Miles retired in 1950, when he turned sixty-five and was eligible to draw social security and possibly also a county pension.
Photographs taken in the late 1940s and early-to-mid 1950s show Charlie and Lillian playing host to their adult children and their families, which by this time included cousins Kay Bailey (daughter of Lorene), Beverly Wright (daughter of Willie Mae), and Vernon Ray Miles (son of Roderick). Outside the house was a picnic table around which the family gathered on special occasions.
On June 13, 1957, Lillian Miles died. The following day, her funeral was held at the Rhoton Funeral Chapel in Carrollton. She was afterward buried at Laurel Land Cemetery in Oak Cliff.
Charlie did not live much longer himself. On Sunday, February 23, 1958, a little less than nine months after Lillian died, Charlie passed away. His funeral service was likewise held at the Rhoton Funeral Chapel in Carrollton. It is not known where it was by design or simply coincidence, but the Rhoton Funeral Home was founded by Junius Tribble Rhoton, brother of Benjamin W. Rhoton, the man who had taken Charlie in as his "adopted son" in the 1890s in Franklin County, Tennessee. Following his funeral, which was held on Tuesday, February 25, 1958, Charlie was laid to rest beside Lillian at Laurel Land, the same cemetery where daughter Lorene and her husband Ed Bailey, and also son Roderick and his wife were later buried.


Grave marker for Charlie Miles and wife at Laurel Land Memorial Park, Dallas, Texas.
It is not known whether Charlie ever knew for certain that Raymond Joe Butler, the child he conceived with his next-door neighbor, Alice Tate Butler, in 1927, was his child, or if he merely suspected. It is likewise unknown if Charlie ever took any interest in Raymond, who grew to manhood with his actual father never living more than two miles away. It is not likely, however, that they had any contact. To this day (June 1, 2019), Raymond believes that Herman H. Butler (who died in 1935) was his birth father. Ironically, Raymond was living in Carrollton in 1958, when his real father's funeral was held there.
EPILOGUE
My father, Raymond Joe Butler died on Wednesday, November 13, 2019, without ever knowing that Charlie Miles was his biological father. Owing to my father's age (91) at the time this family secret was uncovered, I thought it best to keep it from him, just as my grandmother had done, fearing that emotionally it would probably do him a lot more harm than good. Part of me wanted to tell him, because I felt it was his right to know the truth, but what good would it have done? Charlie was long dead and there was nothing that could be done to make up for the past. In short, there could be no happy ending, only remorse and regret. Therefore, under the circumstances, I feel that I did the right thing. It's just too bad that my grandmother did not tell her youngest son the truth when she had the chance, while he was still young enough to handle it and while his actual father was still alive. But if confronted, would Charlie have denied it? Or accepted my father as his own and made some attempt to make up for lost time? Sadly, we will never know.
Certainly, there is no better example of the truth of a saying that I came up with a long time ago: "Sometimes I think the saddest things in life are not so much the bad things that happened, but rather the good things that could have happened, but didn't."
---
---
This website copyright © 1996-2020 by Steven R. Butler, Ph.D. All rights reserved.