The Miles Family
By Steven R. Butler
The Miles Family
William B. Miles |John W. Miles |Charles W. Miles
---
A Brief Biography of
JOHN W. MILES
(c. 1845-May 17, 1928)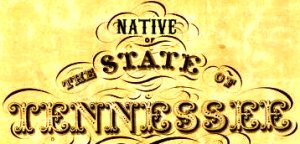 John W. Miles, a son of William B. Miles and Mary Farrar, was born in Tennessee about 1845, probably in either Coffee County or Franklin County. His grandfather, John Farrar, was a prosperous Coffee County planter, who at the time of his death, in 1852, owned six slaves.
John W.'s mother died sometime before 1849, and shortly afterward, from all appearances, his father abandoned him and his younger sister, Elizabeth, to cohabit with a widow named Sarah Baker, with whom it is supposed he had additional children.
The 1850 census found John W.'s eleven-year-old sister, Elizabeth, living in Coffee County with the family of James R. Brown, while thirteen-year-old sister Mary Jane, was taken in by her grandparents, John and Jane Farrar. The whereabouts of John W. and his sister Martha at this time is unknown. It is not known if the Brown family, who took in Elizabeth, were relatives or just friends or neighbors.
In 1856 or 1857, John W.'s father, William B. Miles, died. The circumstances of his death are unknown and his place of burial has likewise been lost to history. Coffee County, Tennessee court records confirm that he was the father of John W. Miles.
The 1860 census found John W. and sister Elizabeth, living with their older sister, Martha, who married Green Berry in 1855. At that time, they were all living in Warren County, Tennessee. There was also a twenty-five-year-old William Miles in the household, presumably a brother, but nothing else is known about him. By this time, sister Mary Jane had married David P. Armstrong (in 1854) and was living in Coffee County.
When the Civil War broke out in 1861, John W. was fifteen or sixteen-years-old. When it ended four years later, he was either nineteen or twenty, old enough to have served in either Confederate or Union forces, yet there is no good evidence that he fought for either side.
There was a John Miles who served in the Confederate Army for a while, was captured by Union troops at the Battle of Murfreesboro and then, while being held as a POW, went over to the Union side, but there is no way to know if this man was "our" John Miles.
About 1867, at the age of about twenty-two, John W. Miles married twenty-one-year-old Ophelia Ann Mitchell. They had one child together, William Andrew Miles, on July 29, 1869. The 1870 federal census found them living with another young couple, Jackson and Joicy Tankesly, in District 7 of Franklin County, Tennessee. A woman named Elizabeth Williams is also in the household, but how, or if, she was related, is unknown. At this time, John W.'s occupation is listed as "Farm Laborer," and he owns no property, which indicates he worked on someone else's farm. Likewise, Tankesly owns no property and his occupation is "Laborer," therefore it is a fair bet that John W. did not work for Tankesly.
Yet, John Miles is listed in the 1870 federal agricultural census, which shows him cultivating 25 acres of a 225-acre farm valued at $1,000, unless this listing is for a different John Miles.
It appears that sometime between 1870 and 1873, John's wife, Ophelia, died, for he married sixteen-year-old Kate Piggan, on January 15, 1873, in Franklin County, Tennessee.
The 1880 federal census found John W. and Kate living in Franklin County, with John's son, William A., but no other children. This time, John W.'s occupation was listed as "farmer," but with no property of his own. The 1880 agricultural census confirms that he was a tenant farmer, who in 1879 had cultivated about 45 acres of "improved" land, which had yielded 200 bushels of Indian Corn, 75 bushels of oats, and a smaller amount of beans and Irish potatoes. He owned one cow, two calves, and produced 100 pounds of butter.
Unfortunately, it does not appear that John and Kate had a happy marriage. About 1880, John W. began consorting with a young woman named Mary Alice Hefner, who bore him a son, John Henry Miles, on September 12, 1881. On January 1, 1884, Mary Alice gave birth to a second son out-of-wedlock, Layton Murrell Miles.
In the meantime, John W.'s wife, Kate, was carrying on an adulterous affair of her own, with a young man named Mark Harris, with whom she apparently ran away, prompting John W., in June 1884, to file for divorce in Franklin County Court.
On October 20, 1884, in Franklin County, Tennessee, John W. Miles married his third wife, twenty-one-year-old Margaret E. Hodge. A little more than a year later, on August 18, 1885, their first and only child, a boy named Charles Wesley Miles, was born. The following month, on September 24, John W.'s third child with Mary Alice Hefner, Myrtle M. Miles, was born.
In December 1885, John W. suddenly and inexplicably abandoned his wife and child and reportedly went to Alabama, either taking Mary Alice Hefner with him, or sending for her. It is believed that they settled in Lowndes County, where two more children, Cora Alice and Eulicious Binum, were born in 1888 and 1892, respectively.
In 1892, after her husband had been gone for nearly seven years, Margaret Hodge Miles filed for divorce in Franklin County Court, which cleared the way for her to legally marry Seaborn E. Jones, by whom she already had two children, daughters Daisy and Nettie, born in 1891 and 1892, respectively.
It is not known whether John W. Miles and Mary Alice Hefner were ever legally married, but in 1893, they and their five children left Alabama and went to Texas, where it appears that they initially settled in Johnson County. They may have also lived for a time in Ellis County, before finally settling in the far southeastern section of Collin County. There, in 1898, John W. Miles bought 100 acres of flat, open farmland about three-and-a-half miles northwest of the tiny town of Josephine, established in the late 1880s on a line of the St. Louis Southwestern Railway.
During their early years in Texas, two more children, Claud Washington and Novella, were born, in 1893 and 1897, respectively. After the family had settled on their new farm near Josephine, Mary Alice gave birth to another daughter, Mary Idella.
In 1901, John W. bought 160 acres of land in nearby Hunt County. Although it was only three miles due east of Josephine, their official post office address was Caddo Mills. Here, a ninth (and last) child was born, Pearline or "Perry," in 1902.
It appears that John W. and Mary Alice remained on this farm even after 1915, when he purchased lot number 4 in block "A" of the new "Coffman Addition" in Josephine. Whether or not there was ever a house on this property is unknown.
On September 9, 1916, at the age of fifty-seven, Mary Alice died, apparently on the Hunt County farm. She was buried the following day at the I.O.O.F. (International Order of Odd Fellows) Cemetery near Caddo Mills.
Following his fourth wife's death, John W. remained on his farm. In 1920, only his youngest child, eighteen-year-old Pearline, remained at home. By this time, all the others had married and started their own families.
Sometime between 1920 and 1928, John W. Miles went to live with his daughter, Novella, and her husband, Rufus Kay Walker, in Greenville, Hunt County, Texas. Here, at 3904 Simonds Street, John W. died on May 17, 1928. He was buried two days later, beside Mary Alice at the I.O.O.F. Cemetery near Caddo Mills.
Although John W. Miles was almost certainly born sometime between 1845 and 1847, on the death certificate, his son-in-law erroneously gave December 14, 1837 as John's date of birth. Inexplicably, both the date of birth and the date of death that were carved into the granite tombstone that marks the site of his grave to this day are wrong. The tombstone says he was born on December 4, 1837 and died on May 27, 1928. It is not known who was responsible for these mistakes.
Sometime between 1900 and 1908, John W's son, Charlie Miles, left Tennessee and also came to Texas, where he settled in Dallas County. It is not known whether either father or son knew that the other lived in an adjoining county, and if they did, if they were ever reconciled.
Almost all of John W. Miles' children by his fourth wife were nearly as prolific as their father. Consequently, there are numerous descendants of John W. living in Texas, and other states today. There are also numerous descendants living in Alabama, where John W.'s oldest son, William A. Miles, settled after he reached adulthood.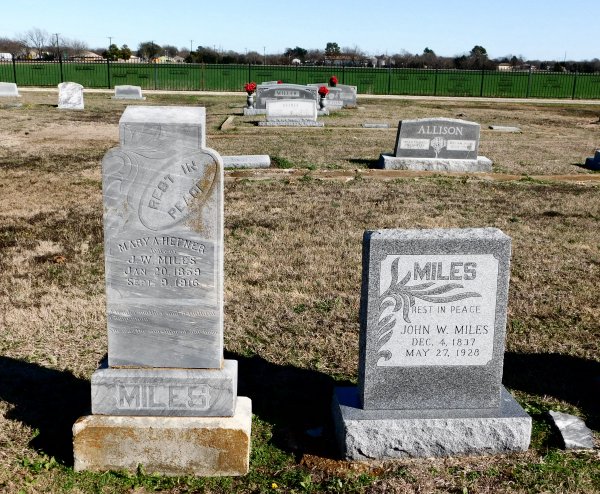 Graves of John W. Miles and fourth wife, Mary Alice Hefner, I.O.O.F. Cemetery, Caddo Mills, Texas.
---
---
This website copyright © 1996-2020 by Steven R. Butler, Ph.D. All rights reserved.