The Miles Family
By Steven R. Butler
The Miles Family
William B. Miles | John W. Miles | Charles W. Miles
---
A Brief Biography of
William B. MILES
(c. 1810-1856)

By Steven R. Butler

My paternal great-great-grandfather, a hardscrabble pioneer settler of Tennessee named William B. Miles, was born about 1810 in North Carolina. Although there seems to be no documentary evidence of his parentage, the results of a DNA test that I took some years ago suggests that he may have been one of the many grandsons of a Revolutionary War veteran named Thomas W. Miles, who also settled in Tennessee during the early nineteenth century. Thomas W. Miles was himself the grandson of a man named John Miles, who either immigrated or was transported as punishment for a crime from England to Virginia in 1738 or '39. As of this date, however (January 2021), no documentary evidence has been found to confirm any of the links that the DNA analysis suggest.

Unfortunately, nothing is known about William B. Miles himself beyond what can be found in the public records of Franklin County and Coffee County, Tennessee, where from all appearances, he spent all or most of his adult life. In all likelihood, he was taken to Tennessee, which became a state in 1796, by his parents, although it's equally possible that he emigrated on his own. In the early nineteenth century, Tennessee was still in the process of being opened to American settlement, and a lot of people from the Carolinas, both North and South, went there in search of inexpensive productive farmland.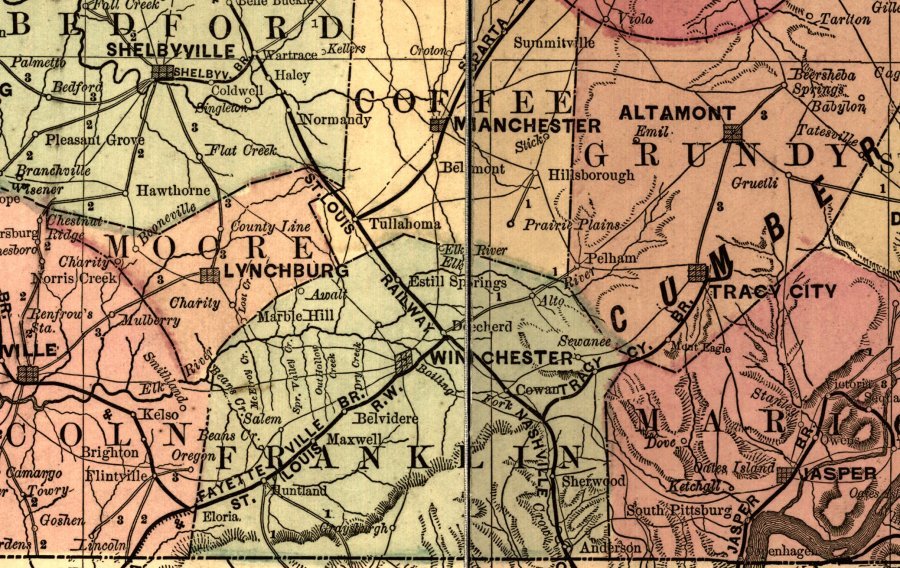 About 1834, at the age of about twenty-four, William B. Miles married Mary Farrar, one of the daughters of John Farrar, a prosperous North Carolina-born farmer, almost certainly in Franklin County, Tennessee, where the Farrar family, had settled in 1820 or earlier. Unfortunately, Franklin County did not keep marriage records in 1834, so the date of marriage has been lost to history. Although we do not know how William and Mary met, we do know that over the course of the next nine years, they had at least four children together:
Martha Miles, born about 1835; married Green A. Berry in 1855, at the age of nineteen or twenty, in Coffee County, Tennessee.
Mary Jane Miles, born about 1838; married David P. Armstrong, at the age of sixteen, on 25 September 1854, in Franklin County, Tennessee.
Elizabeth F.A.C.G. Miles, born about 1839; married William M. Hays, at the age of twenty-eight, on 24 December 1867, in Coffee County, Tennessee. (It is not known what the four initials following Elizabeth's first name stood for, or why she was given so many names.)
My great-grandfather, John W. (the "W" probably stood for either William or Wesley) Miles, born about 1843; married four times (see sketch about John W. Miles for their names).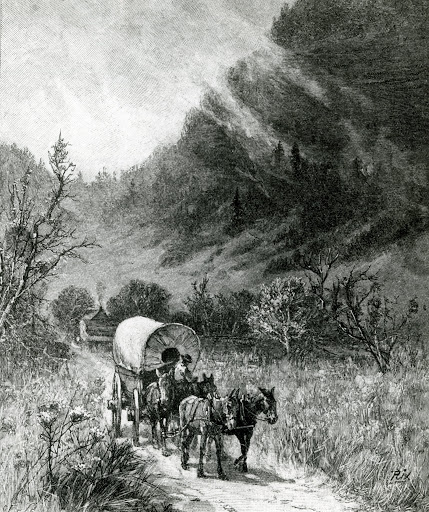 There may have been other children of this marriage that were either stillborn or did not survive infancy, which was commonplace in those days.
Our first known public mention of William B. Miles can be found on page 358 in a Franklin County Circuit Court Minutes book, which records that during the April 1836 court term, held at the courthouse in the county seat, Winchester, he won, by default, a lawsuit against a man named James Bynum, who owed him a debt of $400. Because this is the only reference to the case, and it is brief, what the debt was for or whether or not he actually collected the money, or the additional $8 interest that he was likewise awarded by the court, has been lost to history.
On January 8, 1836, an act of the Tennessee Legislature, approved by Governor Newton Cannon formed a new county from portions of Franklin, Bedford, and Warren counties. It was named for General John Coffee-a friend and associate of then-U.S. President Andrew Jackson. In 1837, the town of Manchester was chosen the county seat. That same year (1837), several citizens, living in the Elk River Valley of Franklin County, petitioned the Tennessee legislature to annex their region to the new county. William B. Miles was one of the signers, although for some unknown reason he did not participate when the proposition was later approved by voters. The legislature likewise approved the annexation, on January 18, 1838, and from that day forward, until he purchased property in Franklin County in 1845, William B. Miles was a resident of Coffee County.
Our next record of William B. Miles can be found on pages 156-7 in Coffee County Court Minutes Book I. During the June 1838 term, the court ordered William B. Miles and several other able-bodied male citizens to act as hands, under the direction of a man named John Cash, to lay out a road "from Bradley's Creek to Lefever's." This was a commonplace measure of county courts at the time, not just in Tennessee, but all over the nation. In those days, much of Tennessee was still a wilderness and there were few roads, which of course were not paved but rather, dirt tracks that connected farms, towns, and cities. This reference to William B. Miles as a road-builder is especially interesting to me because about eighty years later, one of his grandsons-my grandfather, Charlie Miles-would also become a road-builder. However, unlike the grandfather he never met, who did his job as a public service project, Charlie would make road-building his life's work in a place far removed from the hills of Tennessee, namely the city of Dallas, Texas.
Bradley's creek, referred to in the court order, flows through the southern part of Coffee County, near Hillsboro. "Lefever's" referred to the homestead of a well-known settler named Lefever.
Our third public mention of William B. Miles is found on page 19 of Coffee County Deed Book B, in which the sale of some livestock and fodder, for an undisclosed price, on 24 February 1840, is recorded,
The 1840 federal census for Coffee County, Tennessee, completed on 29 October 1840, provides us with a "snapshot," so to speak, of the William B. Miles family, which then consisted of five persons: William (as head of the household, he was the only person named) and his wife-both between the ages of 20 and 29-and their three daughters, all under the age of five. The 1840 census also tells us that although his father-in-law, John Farrar, owned slaves, like the majority of white Southerners, William did not.
There are a number of unanswered questions regarding the life of William B. Miles. One, in addition to "who wee his parents?" is "where did he own property?" In other words, "where did he and his family live?" Unfortunately, there are no deed records for William B. Miles in either Franklin County or Coffee that predate 1845. My guess is that they initially either lived on land belonging to his parents or to his wife's parents, which would explain the lack of deed records prior to 1845.
On 24 February 1841, in the case of the State of Tennessee vs. William B. Miles, an A&B Judgment was recorded in Coffee County (TN) Court Minute Book II, p. 13. Unfortunately, the particulars of this case have been lost to history.
On 5 February 1844, William B. Miles was appointed overseer "of the Stage road from Bradley's Creek to Lefever's old place." This was recorded in Coffee County Court Minutes Book II, p. 95.
There are only five known records of William B. Miles buying and selling land, all of them in Franklin County, In the first transaction, dated 16 December 1845, William B. Miles purchased a 100-acre tract of land from William Wileman, grandson, heir, and namesake of fellow pioneer settler William Wileman, who died in 1838. The cost of the land was $150, which, remarkably, was less than half the amount that the elder Wileman had paid for it in 1816. Unfortunately, the deed includes no useful description of the boundaries of this property, although it does refer to a description that was included in the earlier deed, dated 14 December 1816, when Wileman's grandfather bought the land from a man named William Cross for $360. Sadly, that description is of practically no use either due to its reliance largely on trees and the lines of other people's property. As a result, the only boundary that can be ascertained is the Elk River.
Here is the property description, from the 1816 sale of the land from Cross to Wileman, Sr., found in Franklin County Deed Book J, pp.213-4:
"…a certain tract or parcel of land in Franklin County on Elk River. Beginning on John Finche's North East corner on River then with said Finche's line to a black oak still on with Finche's line to his first Oak corner then turning with said Finche's line running to William J. (or P. or L.) Kelly's line to William F. McDuff's stake corner on said Kelly's line then with McDuff's line to a white Oak on the river then down the said river with its meanders to the Beginning supposed to be one hundred acres be the same more or less it being part of a five thousand acres granted to Stokely Donelson and William Tyrell by the State of North Carolina by Patent No. 301 bearing date 7th day of March 1796."
Unfortunately, the land grant to which the deed refers, being so large in size, that it is also of no help in pinpointing the location of William B. Miles' property. However, the map below shows the general area in which he resided, the northern part of Franklin County and the southern part of Coffee County. Bradley's Creek, mentioned in court records, can be seen below the town of Hillsboro. The Elk River, also mentioned as a boundary of the 100-acre tract he bought in 1845, can also be seen. The stage road shown may be the same one that Miles halped to lay out.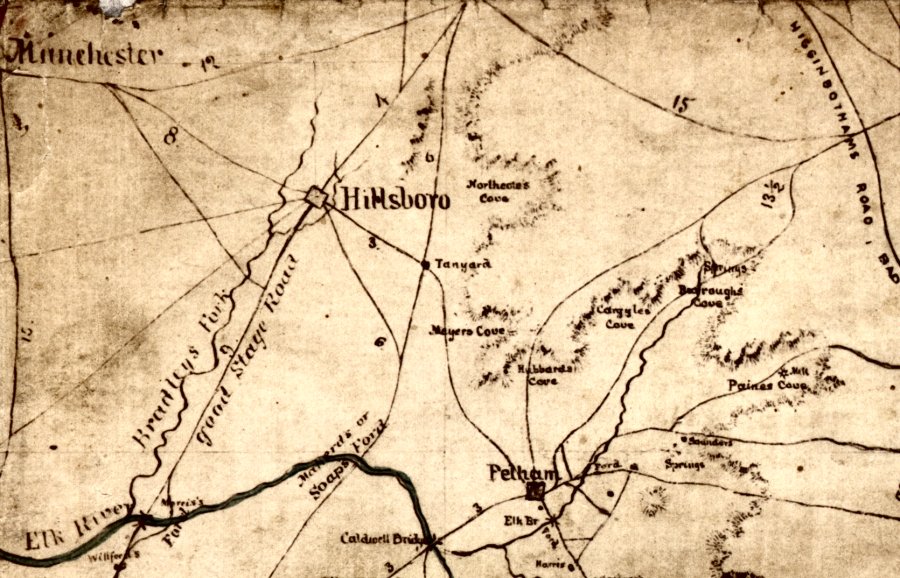 On 5 January 1846, William B. Miles was indicted in the Coffee County Court for assault and battery. Apart from the fact that there were two witnesses called and that Miles was released on bond, the particulars of the case have unfortunately been lost to history. Only one mention was recorded in County Court Minutes Book II, p.187, leaving us to speculate about what happened.
The second deed record for William B. Miles in Franklin County, dated 5 August 1847, may or may not have something to do with the assault and battery charge of 1846. If not, then it provides evidence that Miles had run afoul of the the law a second time when he conveyed the land "on which I now live" to a man named Alford Henderson for the ridiculously low sum of one dollar, but there were conditions:
"The condition of the above obligation is such that whereas I am indebted to Geo. T. Colgar in the sum of thirty dollars due by note of the 5th of August 1847 and also to William Reeves in the sum of twenty-eight dollars 28 cents due by account and also to W.W. & A.J. Brazelton in the sum of eight dollars due by note and whereas the said Geo. T. Colgar and William Reeve have this day become my bail for my appearance at the next term of the Circuit Court in the case of the State against myself Now therefore if I shall appear at the next term of the Circuit Court and not depart without leave of the Court had and obtained or in case of failure so to appear shall well & truly pay all cash fines and forfeitures that may be awarded against me and my securities by said Court, and if I shall well and truly pay all the above-named debts unto the said Geo. T. Colgar, William Reeves, and W.W. & A.J. Brazelton by the 25th of December 1847 then this deed to be void but in case of failure to perform either of said conditions then the said Alford Henderson is to proceed to sell said land to the highest bidder at the Court house in the town of Winchester by first giving ten days' notice at three public places in said county of Franklin the proceeds of all lapses and damages which the said Geo. T. Colgar and William Reeves may have sustained by bearing my bail aforesaid the balance to be paid over to me the day and date above mentioned."
Although there seems to be no record of his wife's death, it is a near certainty that by the time that William B. Miles was having the legal and financial difficulties detailed in the above-referenced deed, Mary Farrar Miles had died, possibly while giving birth to the couple's only son, John W. Miles, or sometime soon after as a result. In any event, it appears that William B. Miles was a widower when on May 17, 1847 he married a young woman named Elizabeth McElvey.
Unfortunately, it was not a blissful marriage. On September 6, 1847, Elizabeth Miles filed for divorce. (Franklin County TN Court Minutes Book for 1844-1849, p.361.) Soon after, the deposition of the defendant (Wm. B. Miles) was taken. (Franklin County TN County Court Minutes Book for 1844-1849, p.400.) In January 1848, the case was continued. (Franklin County TN County Court Minutes Book for 1844-1849, p.410 and p.414) Finally, in May 1848, (Elizabeth Miles moved for the case to be dismissed and it was so ordered by court. (Franklin County TN County Court Minutes Book for 1844-1849, p.445.) So far as it is known, William B. Miles and Elizabeth McElvy never divorced, although it appears that they never again lived together as man and wife.
In the meantime, what happened next makes it unclear as to whether or not Miles met the obligations and conditions spelled out in the above-referenced deed. On 30 December 1847 he sold this same 100-acre tract to a man named James B. Farrar for $100 cash and two promissory notes of $100 each, due and payable in 1848 and 1849. Did he use the money to pay off his debts and obligations? And where did he live immediately afterward? The answer those questions has unfortunately been lost to history. Interestingly, although the buyer bore the same surname as Miles' first wife, it is uncertain as to if or how he may have been related to her. None of her brothers were named James and there seems to be no record of a James B. Farrar in Franklin County apart from this deed.
In addition to his second wife, it appears that William B. Miles also abandoned his children by his first marriage (as far as known, there were none by the second) sometime between 1847 and 1850, if not earlier. We know this because the 1850 federal census shows that instead of living with her father and siblings, Miles' thirteen-year-old daughter, Mary Jane, was living with her grandparents, John and Jane Farrar, in neighboring Coffee County. The 1850 census also shows that eleven-year-old Elizabeth Miles was living with the family of a schoolteacher named James R. Brown, also in Coffee County. It is not known if the Browns were friends or somehow related. Although the whereabouts of fifteen-year-old Martha Miles and her younger brother, John, in 1850, are unknown, one thing is certain: They were not living with their father, who by 1850, as the census reveals, was openly cohabiting with a widow named Sarah or "Sallie" Wileman Baker, whose husband had died some twelve years earlier, leaving her with a son and two young daughters to raise. Sallie had borne several other children since her husband's death in the Florida War, some of who may or may not have been fathered by William B. Miles. There is no question, however, thanks to DNA analysis, that at least two of her daughters, Amanda and Salina, born in 1852 and 1853 respectively, were fathered by William B. Miles.
At the November 1850 term of the Circuit Court of Franklin County, Tennessee, meeting at the courthouse in Winchester, William B. Miles and Sarah Baker (who were apparently not present) were indicted by a grand jury for "lewdness" on account of their living together as husband and wife without being lawfully married to one another (and as far as we know, Miles was still legally married to Elizabeth McKelvey). Although there is no reference in court records to the specific statute they were said to have violated, in all likelihood it was section nine of the statute titled "Vice and Immorality" which reads, "If any person commit fornication, upon due conviction, each of them shall forfeit and three dollars twelve and a half cents for each and every such offence, to be recovered and applied to the same use as other fines in this act." The actual indictment read as follows:
"The Grand Jurors for the State of Tennessee elected, empowered, sworn, and charged to enquire for the body of the County of Franklin and state aforesaid, upon their oath aforesaid present that William B. Miles of said county, yeoman, and Sarah Baker also of said county, widow, being evil disposed persons and intending their own and the public morals to debauch and corrupt heretofore, to wit, on the first day of May in the year of our Lord eighteen hundred and fifty and on divers other days and times both before and since that time with force and arms in the county aforesaid did then and there openly, publicly, and notoriously [two words uncertain] and cohabit together in lewd acts of adultery and fornication they the said William B. Miles and Sarah Baker not then and there being married, to the evil example of all others in like case offending against the peace and dignity of the State."
On 4 November 1850, immediately following the indictment of Miles and Baker, the court ordered the Sheriff of Franklin County to summon five witnesses-John Nugent, E. H. Akard, Joseph Little, William H. Long and Robertson [actually Robinson] Baker, Sarah Baker's twelve-year-old son-to come to court on "the first Wednesday after the fourth Monday of March next" (i.e., 26 March) to testify on behalf of the State. A little more than a month later, on December 10, 1850, a further order was issued to the Sheriff of Franklin County, this time for the arrest of Miles and Baker, but on 21 March 1851, just days before the trial was to take place, Deputy Sheriff William Hill reported that the defendants "could not be found in any county." Ten days later, however, on 31 March 1851, another Deputy Sheriff, John Quincy Adams Farrar-Miles' former brother-in-law-reported he had located the pair some fourteen miles away and had delivered them to the Sheriff in Winchester for trial, where they admitted their guilt and submitted "themselves to the grace and mercy of the court." At the conclusion of the trial, the pair were fined $25, plus court costs and William B. Miles also spent five days in jail as punishment for the offense. From all appearance, that this did not deter them from continuing to live together since, as noted above, Miles fathered two daughters with Sallie Baker in 1852 and 1853.
On 26 February 1852, William B. Miles purchased an estimated 50-acre tract of land in Franklin County from a man named John Powell. The price was $100. This transaction was recorded in Franklin County Deed Book Y, page 235.
The property description, which relies exclusively on trees and the property lines of other landowners, is practically useless in trying to pinpoint its location. The only helpful information is that the land was located on the "waters of Elk River, viz. on bombalo creek" which is almost certainly a misspelling of Brumalow Creek, a tributary of the Elk River that lies in the northern part of the county, not far from the Coffee County line.


Some Franklin County, Tennesse scenery. Author photo taken May 2019.
At the August 1856 term of the Franklin County Court a man named John H. Duncan was appointed guardian of Elizabeth F.A.C.G. Miles and John W. Miles, "minor orphans of Wm. B. Miles." This appointment, recorded on page 373 in the Franklin County Court Minute Book for January 1854 through December 1857, also obviously provides proof, in the apparent complete absence of any probate records, of the death of William B. Miles.
Naturally, some questions arise: When did William B. Miles die? What were the circumstances? And where was he buried? Unfortunately, the answers to all these questions have seemingly been lost to history. There are no probate records nor was there any mention of his death in any newspaper of the time. All we can say for sure is that he was about forty-six years ago when he died, a relatively young age that makes it likely he either succumbed to some illness or suffered a fatal accident. As for his place of interment, the most likely spots are the Wileman Cemetery, on Pearson Road near Bradley Creek, in Coffee County, or the Baker Cemetery in Franklin County, both of which are in the general area near where his land was situated.
Another question that's more easily addressed, although the answer is somewhat puzzling, is what became of his property? According to a deed recorded in Franklin County Deed Book Y, page 238, William B. Miles sold the fifty acres he had purchased in 1852 to John H. Hessey, for the sum of $200. There is one glaring problem with this record, however: Two witnesses, John Powell (the man who sold the land to Miles in 1852) and John W. Hamilton swore to the county clerk that the deed was signed by Miles on 8 October 1858, which of course would be impossible if he died in 1856, unless the date given is a clerical error, which is possible of course. It is interesting to note that both this deed and the earlier one, from 1852, which records the sale of the land to Miles, were not entered in a county deed book until 8 October 1858, which may account for the apparent error.
---
---
This website copyright © 1996-2021 by Steven R. Butler, Ph.D. All rights reserved.