Four Generations of the Van Meter Family
Jan Joosten Van Meteren | Jooste Jans Van Meteren | Jan or John Van Meter | Jacob Van Meter
By Steven R. Butler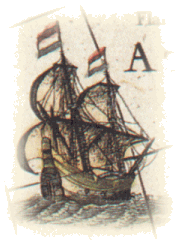 I am a Van Meter descendant by virtue of the marriage of my great-grandfather William Newton Jenkins to Emmerine Morrison, who was the daughter of Isaac F. Morrison, who was the son of Samuel H. Morrison, who was the son of Elizabeth (Haycraft) Morrison, who was the daughter of Margaret (Van Meter) Haycraft, who was the daughter of Jacob Van Meter, who was the son of Jan Van Meter, who was the son of Jooste Jans Van Meteren, who was the son of Jan Joosten Van Meteren.
The discovery of my Dutch ancestors is a fairly recent one (1999). It was also unexpected. For years I assumed all my forebears hailed exclusively from the British Isles because I had no reason to believe otherwise. Apparently, I was wrong.
Before reading the biographical sketches that follow, it might first be useful to review some of the history of Dutch settlement in America. Even our French ancestors were a part of this early colonization effort, living among the Dutch both in Europe and America. You may recall from your history lessons in high school or college that in 1609, on behalf of his employers, the Dutch East India Company, an English explorer named Henry Hudson went looking for a "Northwest Passage" across North America. It was hoped that such a waterway, if it existed, would allow easier access to the Orient. Instead, Hudson discovered the river that has borne his name ever since. Aboard his tiny ship, the Half Moon, he sailed up the river until it narrowed into a creek, making it abundantly clear that this was no route to the Far East.
In 1624, as a follow-up to Hudson's earlier discovery, the newly-formed Dutch West India Company established three settlements in North America: One at Fort Orange (where Albany now stands), on the Hudson River; and two sites on the Connecticut and Delaware rivers. The next year, they brought slaves from Africa, to sell to the colonists who lived in what was then called New Netherlands. The year after that, for 60 guilders worth of trinkets (about $24), Manhattan Island was purchased from a group of Indians who actually had no right to sell it. A settlement called New Amsterdam was afterward established at the southern tip of the island. The first governor of New Netherlands was Peter Minuit, who administered the colony during its first six years. The settlement's most famous governor, however, was the peg-legged Peter Stuyvesant, a strict member of the Dutch Reform Church who ruled from 1647 to 1664 with an iron hand and displayed very little tolerance of the colony's diverse religious groups, particularly the Jews. This did not stop them from coming however and one group that seems to have thrived in New Netherlands were the French Huguenots (Protestants) or Walloons, some of whom had earlier fled to Holland to escape religious persecution in their homeland. Some of our ancestors, as it turns out, were among them.
---
Jan Joosten Van Meteren | Jooste Jans Van Meteren | Jan or John Van Meter | Jacob Van Meter
---
This website copyright © 1996-2011 by Steven R. Butler, Ph.D. All rights reserved.