Van Meter Family
Jan Joosten Van Meteren | Jooste Jans Van Meteren | Jan or John Van Meter | Jacob Van Meter
Jacob Van Meter (1723-1798)
Jacob or "Jake" Van Meter (also spelled Van Metre) was born March 17, 1723 in either Salem or Somerset County, New Jersey. He was the fourth and youngest son of Jan or "John" Van Meter and his wife Margaret Miller Mulliner (or Mollenauer).
When Jake was still a child, his family left New Jersey and settled for a few years in Prince George's County, Maryland. Like their father before them, both Jake's father John and his uncle Isaac were Indian traders who often journeyed into the mountainous wilderness that was then the northwestern edge of Virginia. In 1730, they petitioned Governor Gooch of Virginia to grant them 10,000 acres each in the forks of the Sherando River and 20,000 more for other families. After the governor approved their request, John Van Meter settled his family in what was soon to become Frederick, later Berkeley County, Virginia (now West Virginia). There, he became a wealthy land owner and horse breeder. When he died in Winchester in 1745 at the age of sixty-two, he left his youngest son an equal share of "all Staylen [stallions], geldings, mares, [and] colts." Jake also inherited a tract of land but not the estate called "Opequen," on which his father was living at the time of his death.
Jacob Van Meter was married in Frederick County, Virginia on August 30, 1741 at the age of eighteen. His even younger bride was Letitia Strode, daughter of Edward Strode, an Englishman who had come to America with his parents when he was a boy. Over the course of the next twenty-five years, Letitia Van Meter gave birth to no less than twelve children. They were: Eleanor, born October 1742; Abraham, born June 13, 1744; Rebecca, born September 1746; Susan, born July 2, 1750; Elizabeth, born about 1752; Rachel, year of birth unknown; Mary, born February 11, 1757; Isaac, born February 2, 1759; Margaret, born December 27, 1759; Jacob Jr., born October 4, 1762; John, born about 1764; Alsey, born about 1766. Most of them grew up and got married and, as one writer has put it, "raised large families and their descendants are legion."
In 1755, at the beginning the French and Indian War (1755-1763), Jacob Van Meter was mustered into Captain Richard Morgan's company of Virginia Militia at Mecklenburg (later renamed Shepherdstown). According to one account, when Morgan "led his company of riflemen to join [British General William] Braddock at Fort Cumberland [Maryland] they passed through the village and cut their way through the thickets on the Virginia side of the Potomac, on their way to the fort."
In May 1755, a British officer serving with Braddock described Fort Cumberland:
Fort Cumberland is situated within 100 yards of Witt's Creek on a Hill 400 yards from the Potomack, its greatest length, from East to West, is 300 yards, and breadth. 40 it is built with Loggs drove into the Ground: and 12 feet above it Embrasures are cut for 12 Guns which are 4-Pounders, though 10 are only mounted with loopholes for small arms; The Indians were greatly surprised at the regular way of our Soldiers Marching and our Numbers.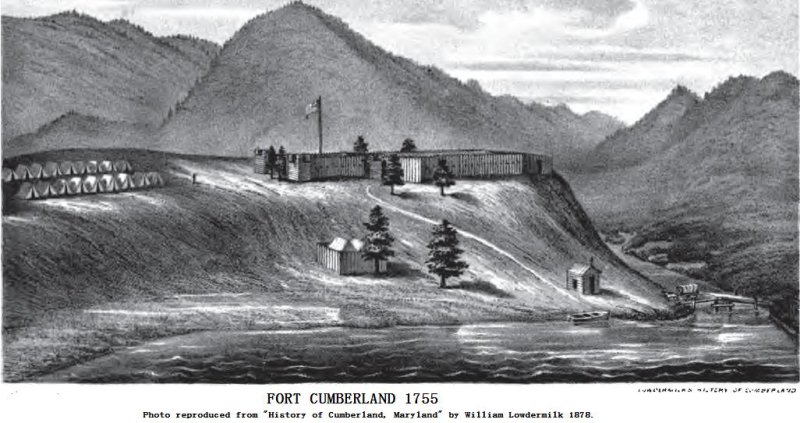 Was Jacob Van Meter present at Braddock's defeat in June 1755, when the unfortunate general and his troops, consisting of both British regulars and colonial militia (a little over a thousand of each), were ambushed by the French and Indians in what is now Western Pennsylvania? Unfortunately, because the military records of Morgan's Company are scant, we don't know, but certainly it is possible. All we can be sure of is that if Jake Van Meter was there, he obviously survived, for not only is he is included on a muster roll of Morgan's company, dated November 27, 1755, but also this narrative has been written by one of his descendants!
About 1768, when he was forty-five years of age, Jake Van Meter, John Swan, Sr. and some others made an exploratory trip into the territory immediately north of Frederick County. This region was then claimed by Virginia but later became the southwestern portion of Pennsylvania. Their purpose in going, according to one writer, was to sell their property in Frederick County and settle on lands that were to be granted by the Colony of Virginia for service in the French and Indian War. In the vicinity of present-day Carmichaelstown, in what is now Greene County, Pennsylvania, they "tomahawked" their claims (that is they marked the land they claimed by using an iron-tomahawk to cut identifying notches in trees) along Muddy Creek. This area, which lay on the western side of the Monongahela River was known as the "Ten Mile Country" on account of its proximity to a tributary of the river called Ten Mile Creek. After returning home, Van Meter and his companions took their families, slaves, "and such household goods as could be carried on pack horse" back to the land they had claimed in what was then West Augusta County, Virginia. Altogether, they numbered about fifty people.
Historians tell us that to protect themselves against Indian attack, particularly during and after Lord Dunmore's War in 1774, many of these settlers, including Jake Van Meter, constructed stockaded "forts" around their log cabins. Jake Van Meter's fort, we are told, was located on Muddy Creek, "on the high ground just to the south of Bailey's School House, where at one time there was in existence one branch of Goshen Baptist Church, about which there was a cemetery, which has since disappeared." There was also "a stockade…built around John Swan's cabin on Swan's Run (later Pumkin Run and in some records, Enoch's Run) and another was built around Henry Van Meter's cabin on another branch of Swan's Run."
At this point, it seems a little information about the Virginia-Pennsylvania boundary dispute would be helpful to the reader: At the time the Van Meter family settled in the "Ten Mile Country," Virginia both claimed and actually exercised jurisdiction over what is now Washington, Greene, Fayette, Westmoreland, and Allegheny counties, Pennsylvania. This claim, writes historian Boyd Crumrine, dated back to about 1748, when "Thomas Lee, of the King's Council in Virginia, formed the idea of effecting settlements on the wild lands west of the Alleghenies, through the agency of a land corporation called the Ohio Company." Three years later, an agent of the Ohio Company was sent to explore and survey this territory. At this time, the French, who were still a power in North America also claimed the land. When they heard of the Virginians' intentions, they built a stronghold called Fort DuQuesne near the confluence of the Monongahela and Ohio Rivers. When the Governor of Virginia sent a body of militia under the command of a young officer named George Washington on an expedition to tell the French they were trespassing on British territory, the Virginians were attacked and defeated. This incident triggered the seven-year-long conflict that has gone down in history as the French and Indian War. In the end, the French were defeated and in 1763, under the terms of a treaty of peace with Great Britain, they ceased to occupy any territory in North America.
With the French out of the way, settlers began to flock to this western region. At the same, the colonies of Virginia and Pennsylvania began to press their claims to jurisdiction over it. Thus, it was at this precarious time that Jacob Van Meter along with his family and friends, settled in the area.
Crumrine, in his article about the dispute, tells us that one of its results was a "series of arrests and counter-arrests [by the authorities of the rival colonies]"…that resulted in "riots and broils of intense passion." All persons, he continues, "who, under color of an office held under the laws of Pennsylvania, attempted any official act, was likely to be arrested and jailed by persons claiming to hold office under the government of Virginia." By the same token, "Virginia officials [were] liable to arrest and imprisonment by the Pennsylvanian partisans."
Thus we find that the very first official mention of Jacob Van Meter in this area can be found in the court records of Westmoreland County, Pennsylvania, which claimed jurisdiction over a portion of the disputed territory. On July 6, 1773, it is noted that two bills of indictment "for Riot" were found against Jake Vanmetre, Henry Vanmetre, and John Swan, John Swan, Jr. (one of Jake's sons-in-law), and eleven other men, "all residents," one historian tells us, "of what is now Greene County [Pennsylvania]." Unfortunately, what action, if any, was taken against these men is absent from the record, leaving us to wonder about the actual nature of their offense and how the matter of the indictment was resolved.
Not surprisingly, around this same time we find Jake Van Meter mentioned in the court records of West Augusta County, Virginia, which also claimed jurisdiction over the region in which he and his neighbors resided. These records make it clear that he was a prominent and well-respected figure in his community. On March 15, 1774, for example, it is noted that he was appointed a constable. Another entry, dated May 16, 1775, reveals that Jacob Van Meter was appointed to sit on a grand jury that convened at Fort Dunmore, named for the royal governor of Virgina.
It was also in May 1775 that "the tidings came across the Alleghenies that on the 19th of the preceding month a detachment of royal troops from Gen. Gage's force at Boston had fired on the Massachusetts provincials at Lexington Common; that the yeomanry had returned the fire and harassed the retreating regulars far on their way towards the city." When the news of this "opening of the first act in the great drama of the Revolution," became common knowledge, "the response which it brought forth from the people west of the mountains was prompt and unmistakably patriotic."
Although Virginia and Pennsylvania were at that time deeply embroiled in the dispute over which colony (soon to be states) had jurisdiction over the territory in which Jake Van Meter and his neighbors lived, "the partisans of both provinces unhesitatingly laid aside their animosities, or held them in abeyance, and both, on the same day, held large and patriotic meetings, pledging themselves to aid to the extent of their ability the cause of the colonies against the encroachments of Britain."
On the same day that Jake Van Meter was chosen to sit on a grand jury for West Augusta County, Virginia he was also chosen as one of twenty-eight prominent county residents that composed a standing committee that was vested with "full power to meet at such times as they shall judge necessary, and in case of any emergency to call the committee of this district together, and shall be vested with the same power and authority as the other standing committee and committees of correspondence [that] are in the other counties within this colony." On that same day, the committee met and passed the following resolution:
Resolved unanimously, That this committee have the highest sense of the spirited behavior of their brethren in New England, and do most cordially approve of their opposing the invaders of American rights and privileges to the utmost extreme, and that each member of this committee, respectively, will animate and encourage their neighborhood to follow the brave example.

The imminent danger that threatens America in general, from ministerial and parliamentary denunciation of our ruin, and is now carrying into execution by open acts of unprovoked hostilities in our sister colony of Massachusetts, as well as the danger to be apprehended to this colony in particular from a domestic enemy, said to be prompted by the wicked minions of power to execute our ruin, added to the menaces of an Indian war, likewise said to be in comtemplation, thereby think to engage our attention, and divert it from that still more interesting object of liberty and freedom, that deeply and with so much Justice hath called forth the attention of all America; for the prevention of all or any of these impending evils, &c.
Afterward, "measures were taken to collect from the people, in a manner the most agreeable to them, so much money as would be sufficient to purchase half a pound of gunpowder and one pound of lead, flints, and cartridge-paper from every tithable person in the county." The sum "was fixed at two shillings and sixpence per tithable."
Although Jake Van Meter apparently did not serve the patriot cause in a military manner (he was too old), a nephew bearing the same name did. The two men have often been confused by their descendants and others.
During the time he lived in the "Ten Mile Country," Jake Van Meter, a deeply religious man, was also instrumental in founding two churches. One was the Great Bethel Regular Baptist Church in what is now Fayette County, Pennsylvania. The other was the Goshen Baptist Church, established in 1774 at Garrard's Fort. Ten members of the latter were also members of Jake Van Meter's family, including his wife, and four daughters and their husbands.
In the spring of 1779, while the Revolutionary War was still being fought, the ever-restless Jake Van Meter and several others applied to the authorities of Monongahela County, Virginia for permission to take his family and "pass unmolested to the Falls of the Ohio [River]." It was his intent to settle in Kentucky, a virgin territory that lay just to the west of the Appalachian Mountains. The legendary pioneer Daniel Boone had settled there only four years earlier, after passing through the famed Cumberland Gap. Unlike Boone, Van Meter and his family and friends planned to enter Kentucky from the north, by traveling down the Ohio River. Permission was granted on March 23, 1779.
In 1779, when the Van Meter party began their journey to Kentucky their route took them through Fort Pitt, a large star-shaped palisade made of earth and logs that lay at the juncture of the Ohio and Monogahela Rivers, on the site of present-day Pittsburgh, Pennsylvania. It was there that one of Jake Van Meter's daughters, nineteen-year-old Margaret, met and married a young Virginia militiaman named Samuel Haycraft. The Reverend John Corbley performed the service. Although it is supposed that the couple's courtship was brief, because Haycraft and his two brothers, James and Joshua were orphans who had been raised by John Neville, a neighbor of the Van Meter family in the "Ten Mile Country" it's possible that Margaret and Samuel already knew each other.
It appears that shortly he was married, young Haycraft's term of enlistment expired, freeing him and his bride to join her father's expedition to Kentucky.
David McClure, author of Two Centuries in Elizabethtown, has described the Van Meter's not-uneventful trip down the Ohio River to Kentucky:
Minutes of a Court held for Yohoghania County, Virginia March 23, 1779 (this prior to the date when that section was established as part of Pennsylvania) granted permission to pass unmolested to the Falls of the Ohio. On September 18, 1779, Jacob Van Meter and his family had been granted certificates of dismission by the Goshen Baptist Church. Soon twenty-seven house boats were, under the direction of Jacob Van Meter, Sr., floating down the Ohio, bringing the families and all their household goods, livestock and anything they could pile on the boats. All of the Van Meter children, with [the] exception of daughter Eleanor, accompanied their parents, together with their husbands and wives. One babe in arms was in the party, the little daughter of Lieutenant John Swan, Jr., and his wife, Elizabeth Van Meter. Swan was sitting on deck on one of the boats with his little girl in his arms when he was struck by an Indian arrow, fired from the river bank. His wife grabbed his gun and began helping the men ward off the attack. Another tragedy struck the party. Mary Van Meter's husband, David Henton, fell into the river while helping unload the boats and was drowned. Henton's death left his widow with two children, Hester Henton, born January 9, 1775, who would marry Walter Briscoe, and John C. Henton, born November 9, 1778, who would marry Catherine Keith.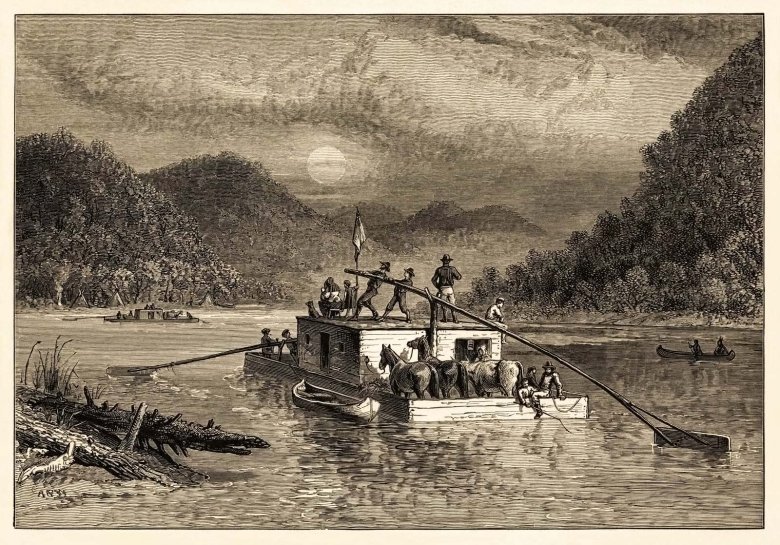 Another author, Howard L. Lecky, has also described the incident that resulted in the death of John Swan, Jr. It is included here because it provides us with a more detailed account than McClure's.Writes Lecky:
With members of his own and his wife's families, John Swan, Jr., with his wife and small children were floating down the Ohio River to take up land [in Kentucky], and when a short distance below Fort Pitt, while John Swan, Jr., was fast asleep on the flat boat with his young daughter in his arms, he was shot through the breast by an Indian on the shore. So fatal was the shot that those aboard were unaware of the incident until the child cried out: "Oh! Papa has been shot and warm blood is running over me." The party on board made ready to repel an attack and began a vigorous fire at the enemy on the shore, the newly-made widow of John Swan, Jr., loading guns for Joseph Hughes, brother-in-law of the dead man, until they drove off the raiders. The party then sadly proceeded to their destination.
McClure goes on to report that others in the party were "Stephen Rawlings, father of Edward Rawlings, who had married Rebecca Van Meter, together with his family…So was Jacob Van Meter, son of Henry Van Meter, one time ensign in Clark's Illinois Regiment and later a captain of Jefferson County Militia." Two families of Negro slaves "belonging to the senior Van Meter" also made the trip. McClure notes that in Jake Van Meter's will there was a provision "that they were to be set free upon the death of his wife" after serving her during her lifetime "but if she lived until they were thirty years old, they were to be given their freedom."
Another slave who traveled to Kentucky in this party was "General Braddock," (named for the famous British general killed in the French and Indian War) who belonged to Jake's son Abraham Van Meter. McClure reports that the slave had gained both his nickname and a degree of fame for killing nine Indians. Many years later, after his master was killed by Indians at Boone's Fort, "General Braddock" was "set free forever." He afterward married a woman named Becky Swan (apparently a slave or former slave belonging to the Swan family) and settled on a farm near Elizabethtown, Kentucky.
Although the above-quoted writers have the Van Meter party traveling to Kentucky in the fall of 1779, there is very good evidence that they did not make the trip until the spring of 1780. The journey down river to the Falls of the Ohio took about ten or twelve days. From there, the Van Meter party reached the Severns Valley, in what was then Jefferson, later Hardin County, Kentucky. Jefferson County records reveal that Jake Van Meter, Stephen Rawlings, and Edward Rawlings all bought land from John Severns, for whom the valley was named. To protect themselves from Indians, they immediately built wooden "forts" (probably log blockhouses). Van Meter's fort was located, according to one source, "near the big spring at the power house on Leitchfield road, for a long time the source of the Elizabethtown water supply."
| | |
| --- | --- |
| | |
As in Virginia, Jake Van Meter quickly became one of Hardin County's most prominent and enterprising citizens. Only a year after his arrival in Kentucky, he helped to organize the Severns Valley Baptist Church, reputed to be the oldest church west of the Allegheny Mountains that is still in existence. He also built a grain mill on Valley Creek and is "said to have raised the first wheat in Hardin County, having brought the seed with him from Virginia." He also had license to keep a still and a tavern license, which permitted him to allow travelers to stay in his home.
Jake Van Meter seems to have had an unusually close relationship with two slaves that came with him and his family to Kentucky in 1780: his "negro man" Bambo Harris and Bambo's wife, Dinah, both of whom had also been, along with Jake and his family, members of the Goshen Baptist Church in Pennsylvania. A number of researchers have pointed out that in Jake's will, written five days before he died on November 16, 1798, he left all his slaves as a bequest to his wife but directed that they be freed either upon her death or upon reaching the age of thirty, whichever came first. He also names these slaves, "to wit, Daniel, Mark, Isaac and Delilah." Neither Bambo nor Dinah are named in the will. The fact that neither of them are mentioned in Jake's will, combined with the fact that on September 27, 1796, Jake sold three hundred acres of land in Hardin County to Bambo for five shillings, suggests that he had already set them free, but when? The further fact that Bambo Harris ("negro") is listed as a land owner (25 acres) and tax-payer in Nelson County, Kentucky in 1792 (the year that Hardin County was formed from a portion of Nelson County), suggest that he was freed sometime between 1780, when he first arrived in Kentucky with his former master, and 1792. A slave would neither be able to own property nor expected to pay any sort of tax. Clearly Bambo Harris was already free by 1792.
One also has to ask, where did a slave or former slave find the money to buy land? We should recall that Jacob Van Meter owned a grist mill. I think that it is likely that after he set Bambo free (or even sooner), Jake paid him wages for working in his mill. This would explain how he (Bambo) would have had the money to purchase land. Curiously though, there seems to be no record of Bambo Harris ever selling this property. This begs another question: Why not?
Unfortunately, we just don't know. It appears, however, that immediately following the death of Jake Van Meter, or possibly sooner, Bambo Harris left Kentucky, which was a slave state, and went to live in the neighboring free state of Ohio. In 1799 he signed a petition to Congress from "the Inhabitants North west of the Great Miami River in the North Western Territory," expressing fear that they might lose the lands they had already settled upon as the consequence of "an existing Law passed by your Honors Entitled 'An Act providing For The sale of the Lands of the United States in the Territory North West of the River Ohio and above the mouth of the Kentucky River." In 1801, Bambo Harris built the first grist mill in Butler County, Ohio, which he said to have operated for over fifty years. With a millrace said to be a quarter of a mile long, it was located on Elk Creek some two miles west of the town of Miltonville. Owing to the fact that his former master had operated a grist mill in Hardin County, Kentucky and also to the near certainty that Bambo had been employed there, it makes perfect sense that this is the sort of business the former slave would have started, since he must have known it very well. According to one account, Harris had originally been a squatter on the site-42 acres in the southeast quarter of Section 18 of Madison Township-but purchased it in 1808 from William Baldwin, who had legally acquired the entire section. It has also been said that Harris also built a sawmill.
Today, an Ohio state historical marker and three worn millstones, commemorating Bambo Harris' mill, stand on the grounds of the Miltonville fire station. The marker reads as follows:
BAMBO HARRIS GRIST MILL

In c. 1795 Bambo Harris freed black slave built and operated the first Water Driven gristmill in the area on Elk Creek. For fifty years his Millstones ground wheat and corn. A member of the Prairie Baptist Church, he was highly respected in the community. Bambo Harris lies at Rest in the Miltonville Cemetery.
Clearly, the date on the marker is erroneous since we have evidence in the form of the 1796 deed in Hardin County that Harris was still living in Kentucky in 1795. There is no reason, however, to doubt the veracity of the remainder of the text, although curiously, no record of Harris can be found in any federal census records for the period he is said to have resided in Ohio.
During the years he lived in Kentucky, Jake Van Meter acquired a large amount of land in Hardin County. On November 8, 1797, he was granted 1,094 acres on Valley Creek and on November 16, 1797, an additional 2,675 acres. By the time he died at the age of seventy-five on November 16, 1798, he owned 7,891 acres. The inventory of his estate covers four pages in the Hardin County court records.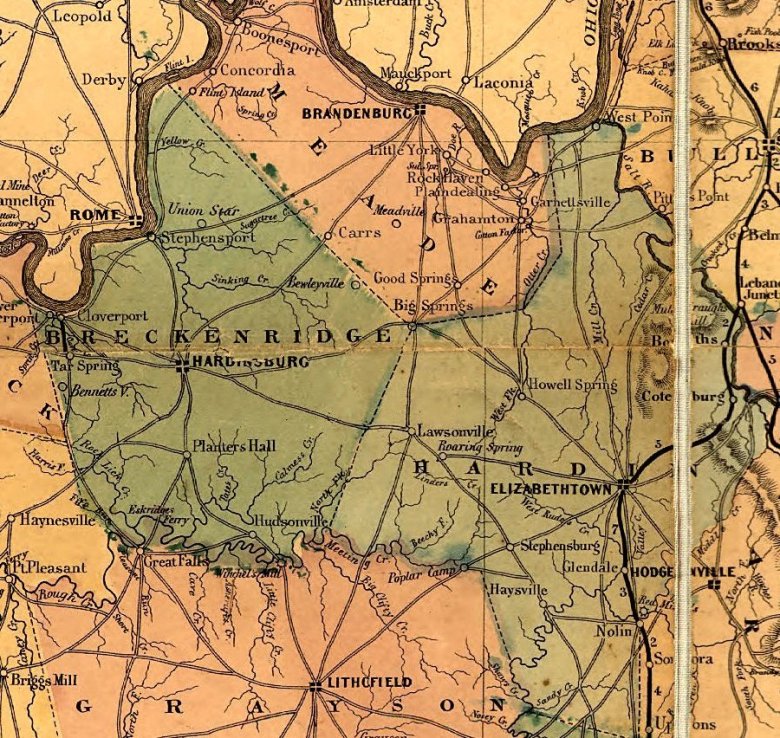 This map of Hardin County is part of a larger map of Kentucky, published in 1862. Courtesy Library of Congress.
Many years later, the remains of both Jacob Van Meter and his wife Leitita were moved from the family graveyard and re-interred in the Elizabethtown City Cemetery. At the same time, inscribed tombstones were placed on their graves by some of their descendants. Unfortunately, it appears they confused the elder Jake Van Meter with his nephew, Jacob Van Meter, ascribing the younger man's Revolutionary War service to his uncle. The markers read:
JACOB VAN METER SR.
1723-1798
AMERICAN PATRIOT-SOLDIER KENTUCKY PIONEER ENSIGN 12TH VIRGINIA REGT IN FRENCH AND INDIAN WAR CAPTAIN, ILLINOIS REGIMENT, VIRGINIA STATE TROOPS IN AMERICAN REVOLUTION AND SERVED ON COMMITTEE OF OBSERVATION AT PITTSBURG. COMMANDED A COMPANY IN GEORGE ROGERS CLARKE'S EXPEDITION TO TAKE NORTHWEST TERRITORY. LED BAND OF 100 PERSONS DOWN THE OHIO RIVER ON 27 FLATBOATS TO SEVERNS VALLEY IN 1779-1780. BUILT ONE OF THE FIRST FORTS IN KENTUCKY AND HELPED ESTABLISH THE FIRST PERMANENT SETTLEMENT BETWEEN THE FALLS OF OHIO AND GREEN RIVER AT ELIZABETHTOWN. PROMINENT IN FOUNDING HARDIN COUNTY. ONE OF THE ORGANIZERS OF SEVERNS VALLEY BAPTIST CHURCH, 1781, OLDEST CHURCH WEST OF ALLEGHENY MOUNTAINS. CAPT. JACOB VAN METER CHAPTER D.A.R. NAMED IN HIS HONOR.

HIS WIFE
LETITIA STROUD VAN METER
MARRIED IN VIRGINIA 1741
MOVED FROM THE FAMILY CEMETERY 1965
---
Van Meter Family
Jan Joosten Van Meteren | Jooste Jans Van Meteren | Jan or John Van Meter | Jacob Van Meter
---
This website copyright © 1996-2021 by Steven R. Butler, Ph.D. All rights reserved.