Port Call 1: Lisbon, Portugal


28 April-2 May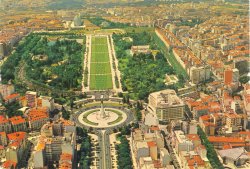 On its first port-of-call for this cruise, the Intrepid anchored in the Tagus River, just opposite Portugal's capital city, which, like Rome, is situated on several hills.
Thanks to a change in policy promulagated in one of CNO Admiral Elmo Zumwalt's latest Z-grams,* even lower-ranking crewmembers were allowed to go ashore wearing "civvies," and most did.
One of the city's biggest attractions was the Castelo de Sao Jorge, an ancient fortress guarded by white peacocks. Situated atop a tall hill, it gave us a great view of the city below and the ship in the distance.
Crewmembers also enjoyed Portugal's inexpensive and delicious Rosé wines, some perhaps too much so!
* Z-68 read: "In view of the enthusiastic response to pilot program authorizing first class petty officers to maintain civilian clothes aboard ship for wearing ashore on leave and liberty, privilege is hereby extended to all petty officers on all ships."