Port Call 2: Plymouth, England



10-13 May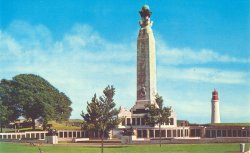 At Plymouth, the Intrepid anchored offshore, within site of the city's famous "hoe," a flat, green, park-like area atop a tall bluff, where in 1688 Sir Francis Drake was said to have been playing "bowls" when he first caught sight of the approaching Spanish Armada.
Plymouth's main shopping district, where crewmembers went to eat, drink, and shop for souvenirs, was unusual, extending down a slope opposite the hoe.
Although tiny, Plymouth's zoo was an attraction for some of our crew.