The African-American Museum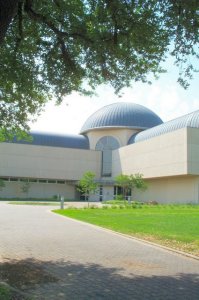 The African-American Museum was established in 1974 in order to preserve and display "African American artistic, cultural and historical materials" and to portray "the African American experience in the United States, the Southwest and Dallas." The present impressive building, a distinctive structure featuring a 60 foot high dome, opened in 1993. For more information, please see the African-American Museum Web site.
The museum is located about midway between the site of the old Fair Park Swimming Pool and the site of Hall of Negro Life, which was built for the 1936 Texas Centennial Exposition. Erected by the federal government, the Hall cost $50,000 to build and an identical sum was spent on the interior exhibits. The style of architecture was similar to that of other exhibit buildings on the grounds.
The Hall, "portraying Negro life in America," was quite impressive. Above the main entrance was a ten-feet in diameter sculpted-plaster seal. It boasted four exhibition halls, an open-air lecture stage which faced seating for 2,000 people, and a lobby with four public telephone booths.
Sometme after the Centennial Exposition closed, the Hall of Negro Life was demolished.