Magnolia Lounge/Margo Jones Theater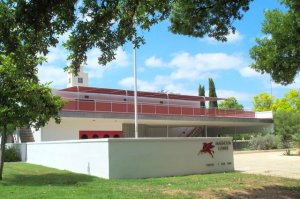 Next door to the old Hall of Religion stands the Magnolia Lounge. It was built in 1936 by the Magnolia (now Mobil) Oil Company as a place where Centennial Exposition visitors could "sit and chat" while enjoying an extended view of the Civic Tract lagoon and stately buildings in the Exposition grounds. The Exposition guidebook noted:
"In the spacious lounge-room where comfortable seats are provided for 100 guests, continuous entertainment is provided. Talking motion pictures are projected here on a translucent screen in such a manner that they will be clearly visible while the room remains lighted."
In 1947 the Magnolia Lounge became the Margo Jones Theater, where plays were staged "in-the-round." Jones, a native Texan, had an extensive background in theater and had long dreamed of having her own place in which to direct. With a $10,000 check from Mrs. Eugene McDermott and the offer of the use of the old Magnolia Lounge, she was put on the right footing to make her enterprise a success. That she was able to do so was remarkable. As John William Rogers wrote of her in The Lusty Texans of Dallas (when Jones was still alive):
"A girl from a small town with limited means, no family connections to help her in her chosen field, and no entree into Dallas except her force of personality, she has created her theater from a single resource - an inescapable power in her personality which makes her ideas as she presents them all but irresistible."
Between 1947 and 1955 Margo Jones produced 85 plays. Some were classics, others original works by such playwrights as the then-unknown Tennessee Williams. Her theater-in-the-round brought an excitement and originality to Dallas such as it had never previously seen. One of her trademarks was to name the theater according to the years, i.e."Theater 48," "Theater 49," and so on. Sadly, her success and fame were short-lived. In 1955 Margo Jones died suddenly and unexpectedly after inhaling carbon tetrachloride fumes, which resulted from having her carpets cleaned. Within four years the theater she created was closed.
Duing the 1980s and '90s the Magnolia Lounge functioned as a Fair Park Visitors Center, operated by The Friends of Fair Park, which still maintains an office here. Following a 2003 "face-lift," the building was also home for a while to the Video Association of Dallas.
This website copyright © 1996-2012 (except where noted) by Steven Butler, Ph.D. All rights reserved.