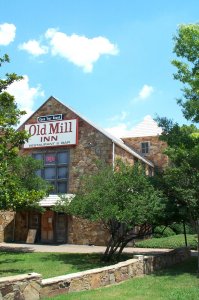 Directly across First Avenue from the old Hall of Religion and the Magnolia Lounge stands the Old Mill Inn. Now a restaurant, the Old Mill began its existence in 1936 as a replica of the Burrus Flour Mill which once stood in McKinney, Collin County. The original dated back to the days of the Texas Republic and in fact, some of the original mill's timbers were used in the construction of this replica. During the Centennial Exposition the building housed a Flour Milling Industries exhibit. A cookbook, featuring the Mill on the cover, was a favorite souvenir with 1936 housewives.
In later years the Old Mill became the Bordens Dairy Exhibit during each State Fair. Youngsters took particular delight in going there to visit "Elsie" the Borden cow, her husband "Elmer" (of glue fame), and their calf son, "Beauregard". Gail Borden, the dairy's founder and whose name is engraved on the exterior frieze of the Hall of State, was an early Texas settler who invented condensed milk.
Today the Old Mill Inn is a year-round restaurant offering standard fare at moderate prices.