The late 1940s saw the addition of a popular new seasonal attraction to White Rock Lake Park. Owned by speedboat concessionaire Johnny Williams Sr., who operated from a floating dock beside the bathing beach, the Bonnie Barge was the largest vessel ever seen on White Rock Lake. Measuring 65 feet long by 22 feet wide and powered "by a husky 'sea mule' motor of the type used by...invasion craft," the boat was capable of carrying up to 150 passengers. It was named by Park Director L. B. Houston for Williams' wife, Bonnie. In a 1947 newspaper article, Williams remarked: "Folks can do everything but play shuffleboard on the Bonnie." During the hour-long afternoon excursions, he added, "They can get a sun-tan, picnic over bouncing waves, dance to our music, or just plain go cruising." On balmy summer evenings, the brightly lit Bonnie Barge, its deck crowded with private partygoers dancing to recorded music, was a frequent sight on the darkened waters of the lake.
In 1956 the Dallas City Council reacted to "dangerous overcrowding on the lake" and a "feud between sailboat enthusiasts and powerboat owners" by passing an ordinance "prohibiting any boat with a larger than ten horsepower engine" from operating on its waters. Unfortunately, the ordinance not only drove powerboat owners to other area lakes, it also ended the operations of the Bonnie Barge.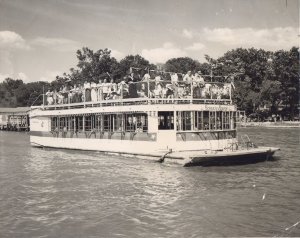 Photo courtesy of The White Rocker.
---
Sources:
Dallas Morning News, June 1, 1947.
Gerald Saxon, ed., Reminiscences: A Glimpse of Old East Dallas (Dallas: Dallas Public Library, 1983), 33.
Jimmie Sue Mason, "White Rock Through the Years," in Sketches of a Growing Town, edited by Darwin Payne (Dallas: Southern Methodist University, 1991), 88.