TO VIEW AN INFORMATIVE AND ENTERTAINING FILM ABOUT WHITE ROCK LAKE, courtesy of The White Rock Lake Museum,
CLICK HERE.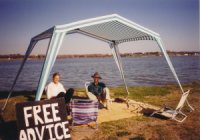 IN MEMORIAM We were saddened to hear of the passing of Free Advice guy Roderick MacElwain on January 15, 2023. You can read about him in this article in The Lakewood Advocate.
A MEMORIAL SERVICE is planned for March 4, 2023.
This photo (left) of the Free Advice Guys was taken sometime between 1996 and 2000.
To see a larger version, CLICK HERE.
This website copyright &copy 1996 - 2023 (except where noted) by Steven Butler, Ph.D. All rights reserved.