Dixon Bay Footbridge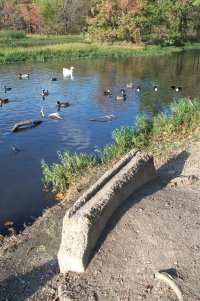 The concrete pier seen in this photograph is about all that remains of a footbridge that was built atop a sewer line that spanned Dixon Bay (now called Sunset Bay), from the Sunset Inn to Dreyfuss Point.
The date of the bridge's construction as well as its removal are uncertain but maps of the area prepared by the Civilian Conservation Corps in the late 1930s show it in place.
Today, if the bridge were to be rebuilt, much of it would go across dry land, due to silting that has filled in Dixon or Sunset Bay over the years.
This website copyright &copy 1996 - 2004 (except where noted) by Steven Butler. All rights reserved.