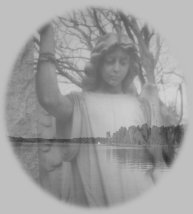 Links to Other Sites
The Folklorist:
The Lady of White Rock Lake
The Ghost in My Suitcase:
The Lady of White Rock Lake
The Drowning Girl of White Rock Lake
A "Close Encounter" with the Lady of the Lake
I do not remember my exact age, probably between 10 and 12. We were at a church Christmas party. My father took a wrong turn. It was very cold and there were ice patches on the roads. It was late, and already dark. I remember Dad going under an old and very small bridge, that took an immediate U turn and it was a dead end to the boat ramp. There was also an old building down close to the water. There was lots of graffiti on the building and the bridge. As my father was turning around I glanced towards the water and I saw a woman apparently standing atop the water with outstreched arms. She appeared to be in a beautiful long gown, almost wedding like. I told my parents "Look, look, there is a woman standing in the water, she needs help!" but they apparently did not see what I saw. They looked but could not see her. My mother has always been very sensitive to the spirit and as a child I saw many things others did not. I mostly kept them to myself, I didn't think others understood and now as an adult, I know others do not understand. The important thing is all these years I never knew there was a so called urban legend. In my opinion it is not an urban legend, it is real. I only learned about this "Lady of the Lake" (White Rock) last year, while reading other ghost stories and so-called "urban legends." I just thought I would tell my story about my experience with the Lady of the Lake. All of these years, I always called her the "Lady in White."
- Roxanne Booth
Thanks to Roxanne Booth for permission to include the story of this ghostly encounter, which occurred in the late 1970s. It was received by email in September 2004.
This website copyright © 1996-2004 by Steven Butler. All rights reserved.