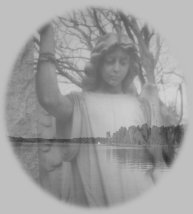 Links to Other Sites
The Folklorist:
The Lady of White Rock Lake
The Ghost in My Suitcase:
The Lady of White Rock Lake
The Drowning Girl of White Rock Lake
Legend holds that a specter known as "The Lady of the Lake" haunts White Rock Lake Park. Is the story nothing more than an urban legend? Or does it have some basis in fact?
One of the best-known Dallas legends is the so-called "Lady of White Rock Lake," a ghostly figure who is said to haunt the park's environs. Everyone it seems has heard one or more versions of the story (which seem to have become more gruesome and embellished over time) but is there any truth to them? Or is the "lady" nothing more than an urban legend that has its counterparts in other U.S. cities? No one seems to know for sure.
It appears the story has been circulating for quite a while. Students at Woodrow Wilson High School in East Dallas were telling the tale to one another at least as early as the 1930s, although whether it originated with them or not is uncertain.
A woman named Anne Clark wrote what may be the earliest published account of the legend. Titled "The Ghost of White Rock," Clark's brief story was included in the Texas Folklore Society's 1943 publication, Backwoods to Border. It read:
One hot July night a young city couple, having driven out and parked on the shore of White Rock Lake, switched on the headlights of the car and saw a white figure approaching. As the figure came straight to the driver's window, they saw it was a young girl dressed in a sheer white dress that was dripping wet. She spoke in a somewhat faltering voice.

I'm sorry to intrude, and I would not under any other circumstances, but I must find a way home immediately. I was in a boat that overturned. The others are safe. But I must get home.

She climbed into the rumble seat, saying that she did not wish to get the young lady wet, and gave them an address in Oak Cliff, on the opposite side of Dallas. The young couple felt an uneasiness concerning their strange passenger, and as they neared the destination the girl, to avoid hunting the address, turned to the rumble seat to ask directions. The rumble seat was empty, but still wet.

After a brief, futile search for the girl in white, the couple went to the address she had given and were met at the door by a man whose face showed lines of worry. When he had heard the couple's story, the man replied in a troubled voice. "This is a very strange thing. You are the third couple who has come to me with this story. Three weeks ago, while sailing on White Rock Lake, my daughter was drowned."
In 1953 a similar but much more detailed account was included in Dallas author Frank X. Tolbert's book, Neiman-Marcus, Texas: The Story of the Proud Dallas Store:
One night about ten years ago a beautiful blonde girl ghost appeared on a road near Dallas' White Rock Lake.

Mr. and Mrs. Guy Malloy, directors for display for the world-famous specialty store, Neiman-Marcus, saw the girl. Only they didn't recognize her, right off, for a ghost. She had walked up from the beach. And she stood there in the headlights of the slow-moving Malloy car. Mrs. Malloy said, "Stop, Guy. That girl seems in trouble. She must have fallen in the lake. Her dress is wet. Yet you can tell that it is a very fine dress. She certainly got it at the Store."

By "the Store," Mrs. Malloy meant the Neiman-Marcus Company of Dallas.

The girl spoke in a friendly, cultured contralto to the couple after the car had stopped. She said she'd like to be taken to an address on Gaston Avenue in the nearby Lakewood section. It was an emergency she said. She didn't explain what had happened to her, and the Malloys were too polite to ask. She had long hair, which was beginning to dry in the night breeze. And Mrs. Malloy was now sure that this girl was wearing a Neiman-Marcus dress. She was very gracious as she slipped by Mrs. Malloy and got in the back seat of the two-door sedan.

When the car started, Mrs. Malloy turned to converse with the passenger in the Neiman-Marcus gown. The girl had vanished. There was a damp spot on the back seat.

The Malloys went to the address on Gaston Avenue. A middle-aged man answered the door. Yes, he had a daughter with long blonde hair who wore nothing but Neiman-Marcus clothes. She had been drowned about two years before when she fell off a pier at White Rock Lake.

The point of this story - for our purposes - is not that Mr. and Mrs. Guy Malloy, a hard-working, sober, no-nonsense couple, say very firmly that they saw a ghost. Other folks say they have seen the beautiful girl ghost of White Rock. The point of this story is that she was a very well-dressed ghost. And Mrs. Malloy at once identified her as wearing Neiman-Marcus clothes.
A contemporary Dallas writer, Rose-Mary Rumbley, confirms this story, more or less, in her more recent book, Dallas Too, which was published in 1998 by the Eakin Press.
"My good friend Barbara Rookstool," Dr. Rumbley writes, "vows that her daddy, Guy H. Malloy, was the one who created the Lady of the Lake legend." One Friday night, she continues, he worked late on a window display at the Neiman-Marcus store in downtown Dallas. It was after 2 a.m. on Saturday morning when Mr. Malloy, driving home to East Dallas, "first spotted the Lady of the Lake rise from White Rock." Afterward, reports Rumbley, "he told the story of the sighting" and it "has been told ever since."
"As time passed," Rumbley remarks further, "the story grew," adding, "Malloy just saw her. He never took her home." Although this story does not match Tolbert's account in every detail (Rumbley has it taking place in the 1930s, for instance), the former schoolteacher agrees that the alleged spectre "was wearing a dress from Neiman-Marcus."
Was there really someone named Guy H. Malloy, who worked as window dresser for Neiman-Marcus? The answer is most definitely "yes." He and his wife Josephine are listed in Dallas telephone books of the time and some of the earlier directories confirm his occupation. But did he, or he and his wife together, really see a ghost? That question is a bit more difficult to answer.
Another contemporary Dallas author reports that the "Lady of the Lake" has been seen, not in a Neiman-Marcus dress but in a flowing negligee and that she is believed to be the ghost of a despondant young woman who committed suicide by drowning herself in the reservoir. This begs the question: Has anyone ever done such a thing? Again, the answer is yes.
On Friday, July 5, 1935, Mrs. Frank Doyle found a suicide note left by her sister, Louise Ford Davis, who resided at the Melrose Court Hotel. Mrs. Doyle immediately alerted the police, who sent seven squad cars racing to White Rock Lake, in hopes of preventing a tragedy. But they were too late. "Detective Bryan," reported the Daily Dallas Times Herald, "who was driving along the Garland road, turned on to the lake road [East Lawther Drive] and shortly afterward saw Mrs. Davis' head bobbing in the water."
"It was estimated," reported the paper, "that she had been in the lake five minutes when he [Detective Bryan] dragged her to shore." Although artificial respiration was employed in an attempt to revive Mrs. Davis, it was in vain and police remarked that if they had been called only "two or three minutes sooner," they might have saved her. The woman's car was parked nearby, a reporter added, and a "sheet and a pair of white gloves were found on the car seat." However, there was no mention of what she was wearing and the contents of the suicide note were not revealed. After a Saturday funeral service in Dallas, Mrs. Davis' body was taken to Albany, Texas for burial.
On November 24, 1942, another distraught woman, 35-year-old Rose Stone of Mansfield, Texas, also committed suicide by drowning herself in the lake. Her body, dressed in sweater and skirt, was discovered in eight feet of water near the muncipal boathouse by Johnnie Williams, who assisted the park superintendent and city fireman in the search. A note was pinned to her sweater asking that relatives in Fort Worth be notified of her death. Mrs. Stone's coat and hat were found on the shore.
So is Louise Davis or Rose Stone the "Lady of the Lake?" Is it the spirit of one of these unfortunate women that people have seen over the years, rising from the lake? Or is the alleged ghost the troubled soul of a young girl who fell off a pier and drowned, a girl who lived with her parents on Gaston Avenue and had a preference for clothes from Neiman-Marcus?
I'll let you, dear reader, decide that for yourself.
Want more? Here's a purported eyewitness encounter with the Lady!
Thanks to Benjie Butler for a portion of the photo above left.
This website copyright © 1996-2017 by Steven Butler. All rights reserved.