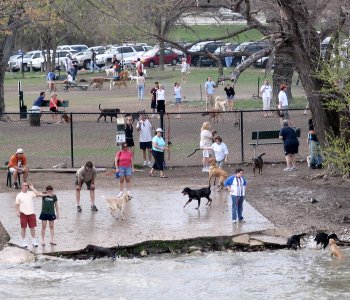 The Mockingbird Point Off-Leash Dark Park was formally opened to the public on Friday, June 8, 2001 in a ceremony featuring Texas Rangers baseball legend Nolan Ryan, although lakegoers and their four-legged friends were allowed to use the facility a full week prior to that date.
The one-acre park, which is open daily from 5 a.m. to midnight, has a set of rules that pets and their owners must follow. These are clearly posted on the chain link fence that forms the enclosure.
Although the park is on city-property, it was paid for with a $25,000 grant from the Muenster Milling Company, a dog food manufacturer. The facility, the first of its kind in Dallas, is located on the northwestern shore of the lake, on the south side of Mockingbird Lane, between the W. Lawther Drive entrance to the park and the beginning of the Mockingbird Lane Causeway.