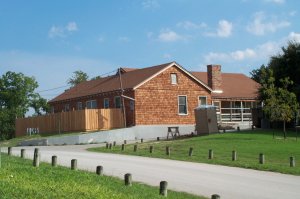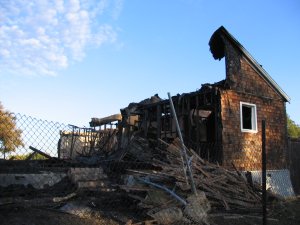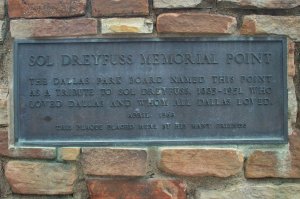 For seventy years this now-barren hillock was surmounted by an attractive recreation building, built in 1936, at a cost of $6,000, as a private clubhouse for the employees of the late Sol Dreyfuss, a prominent downtown Dallas clothing retailer (Dreyfuss & Son). Following World War II, ownership of the building was transferred to the City of Dallas, which rented it out for parties and other functions. Although the view is not quite as commanding as that afforded by Winfrey Point, it is a good spot nonetheless from which to survey the lake and its environs. A pleasant, shaded picnic area is located nearby.
A bronze plaque, attached to the stone wall that surrounds the hill provides evidence of the high esteem in which Sol Drefuss was held. It tells park visitors that in April 1968, "the Dallas Park Board named this point as a tribute to Sol Dreyfuss, 1885-1951, who loved Dallas and whom all Dallas loved" and that the plaque was "placed here by his many friends."
On the lawn above the wall another bronze plaque records the presentation of a flagpole to the City of Dallas by the Dallas Federation of Women's Clubs in 1964." However, the flagpole is gone and has been missing for quite some time.
Early on the morning of Monday, October 23, 2006, Dallas firefighters arrived to find the 70-year-old Dreyfuss Club engulfed in flames. Sadly, they were unable to save it.