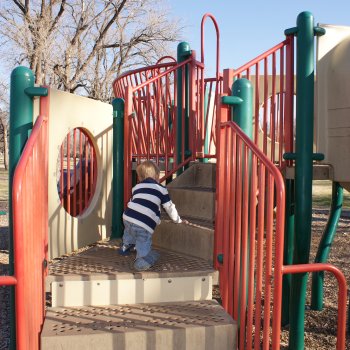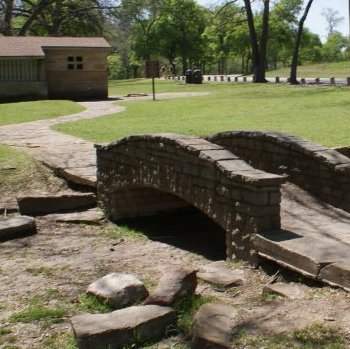 This picnic area, located beside Dixon Branch Creek, was one of the earliest developed areas of White Rock Lake Park, probably because of the grove of trees that was already present in the vicinity. The stone picnic tables seen here were constructed in 1931 by the City of Dallas. The adjacent stone picnic pavilion, which was probably designed by architect Martin C. Kleuser, was the first of its kind erected at White Rock Lake Park. Workers employed by the Civil Works Administration (CWA), one of President Roosevelt's New Deal public works agencies, built it from native Texas stone.
Between 1935 and 1942, the Civilian Conservation Corps was active making improvements to White Rock Lake Park. About 1938, in this area, they built a small, stone footbridge spanning a spring-fed "lily pond," designed by W. S. McCommas, and a stone latrine, designed by M. A. Burke. The latrine's decorative open-air windows, featuring whimsical, cast-iron fish, animals, and birds, were designed by Burke as well. A stone water fountain, similar to the one at Sunset Bay, also stands nearby.
Despite the fact that the picnic tables and structures are clearly suffering from neglect (the little bridge is missing a few stones, for example, and the lily pond has dried up), this shady picnic area is apparently one of the park's most popular. It is located on East Lawther Drive in a grove of tall pecan and cottonwood trees, within sight of Buckner Boulevard, on the north side of Dixon Branch Creek. A children's playground is situated between the picnic tables and the little bridge, making this spot particularly popular with families.
In the fall, park visitors can be seen harvesting pecans that drop to the ground from the trees that abound in this area.