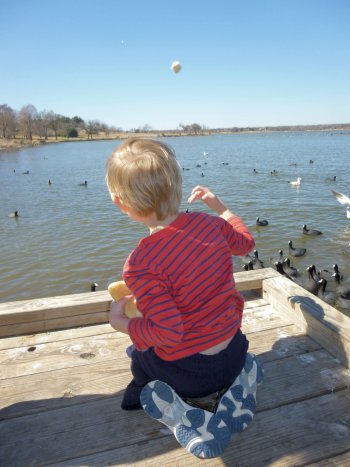 This place is surely one of the best spots on the lake from where to watch a beautiful Texas sunset. A short fishing pier, located directly across the road from the Sunset Inn, is a favorite with anglers hoping to catch a big fish. Frequently, their bait is stolen by turtles which abound in the bay, located at the mouth of Dixon Branch Creek, a sheltered inlet favored by ducks, geese, pelicans and other waterfowl. Not surprisingly, this is also a favorite spot for feeding birds. Children seem to especially enjoy tossing scraps of stale bread to the hungry waterfowl.

Originally called Dixon's Bay, this section of the park was developed by the Civilian Conservation Corps using plans drawn by M. A. Burke and Hubert Barry. Burke designed both the Sunset Inn and the caretaker's cottage that stands immediately behind it. Both buildings were constructed in 1937. The following year, a T-head pier was added. (The one that is there now is probably not the original but occupies roughly the same spot.)

Presently, the old caretaker's cottage is being used as offices for the White Rock Lake Park Service Center, 830 E. Lawther Drive.

Burke also designed a beautiful, hand carved wooden sign that originally stood on the lawn of the Sunset Inn. During the 1930s, 1940s, and 1950s, a concession operating out of the building offered parkgoers dinners, drinks, sandwiches and bicycle rentals.

A CCC-built stone water fountain, which ceased to function several years ago, has been converted into a planter. These days it sports a pot of flowers and a plaque that was placed there in 2000 by For Love Of The Lake, a local volunteer organization.

A bronze statue depicting a CCC worker, also funded by For Love Of The Lake, was erected on the lawn and dedicated in 2004.

At one time, a long, narrow wooden footbridge stretched across the bay, connecting this section of the park with the point on which the Dreyfuss Club stands. This bridge, which straddled an above-water sewer line, was demolished about 1938.