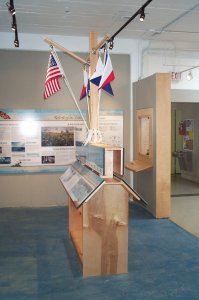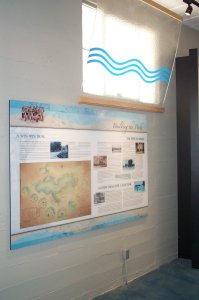 The White Rock Lake Museum (WRLM), which opened on Saturday, September 18, 2004, is the culmination of a long-held vision by Museum President and lakeside resident Kurt Kretsinger, who initiated its founding.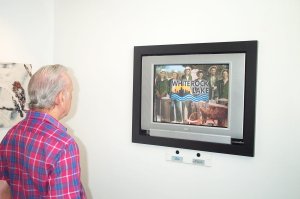 Located in a former storage space in the Bath House Cultural Center, this newest addition to White Rock Lake Park offers visitors a chance to find out more about the place that brings them so much pleasure and peace-of-mind.
Unlike many museums (and owing to its small size), the WRLM has only one artifact on display (a 1930s motorboat racing trophy). Instead, the museum consists primarily of informative exhibit panels, the text of which is based largely on research conducted by White Rock Lake Historian Steven Butler (host of this website). Museumscapes, a Richardson, Texas-based company whose clients include the Sixth Floor Museum at Dealey Plaza in downtown Dallas, designed and built the displays. Becky Rader, a lakeside resident and Master Naturalist, contributed her expertise to the panels that focus on the lake's natural history.
When the museum was first opened in 2004, an informative and entertaining film about White Rock Lake, made by Brazos Film & Video, a Fort Worth-based company, could be watched on a television screen located within a space that also features a changing display of artwork produced by local artists. The television set is no longer there, but you can WATCH THE FILM ONLINE HERE.
Although many individuals, organizations and business contributed time, money, expertise, and so on to the building of the museum, its chief underwriter was For the Love of the Lake, a grass-roots activist organization whose focus, since the group's inception in 1995, has been on making White Rock Lake Park a better place for people to enjoy.