White Rock Lake Park Historical Marker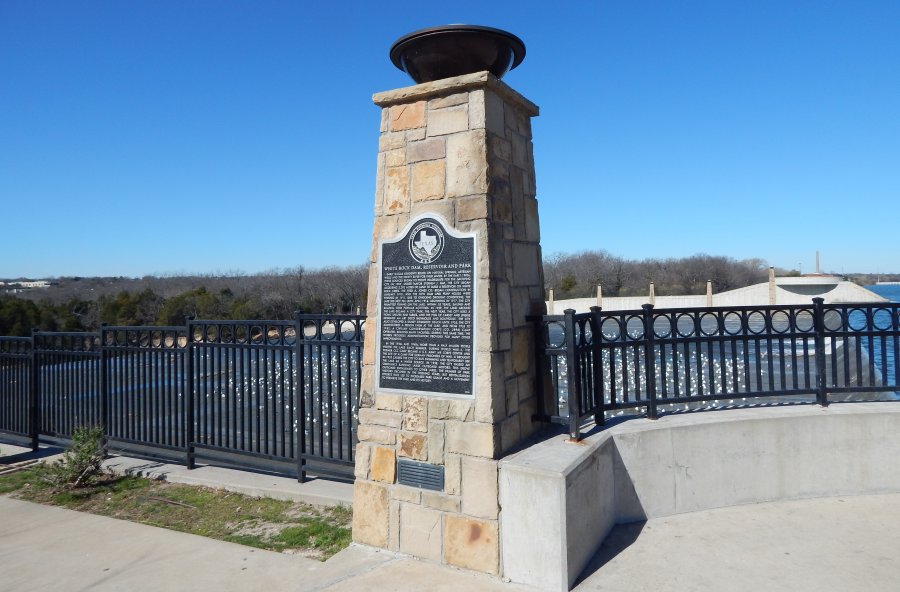 In 2006, this Texas Historical Commission marker was placed near the park entrance at the junction of Garland Road and East Lawther Drive. It is now re-positioned at the spot where it was originally intended to be seen; overlooking the dam and reservoir it commemorates. Until 2016, when it was imbedded in this stone light post, it stood atop a metal pole. Although the date on the plaque reads "2005," it was not actually erected until 2006, when it was formally dedicated on Saturday, October 28.
View Dedication Ceremony, Saturday, October 28, 2006
Initiated by unofficial White Rock historian Steven Butler, placement of the marker was funded by civic activist group For The Love Of The Lake, with the approval and cooperation of the Dallas Park and Recreation Department. The marker text, derived from Butler's historical narrative, with additional input from DPARD official Willis Winters, is shown in the box below:
WHITE ROCK DAM, RESERVOIR AND PARK

Early Dallas residents relied on natural springs, artesian wells and the Trinity River for their water. By the early 1900s these sources began to prove inadequate for the growing city. In 1909, under Mayor Stephen J. Hay, the city began acquiring 2,292 acres of land to build a reservoir on White Rock Creek. The Fred A. Jones Co. began construction in January 1910, and the new dam and pump house were finished in 1911. Due to ongoing drought conditions, the lake did not fill until 1914. Beginning in 1917, the city permitted fishing at the lake. Within 10 years, sailing and boating were popular activities. In 1929 the land around the lake became a city park. The next year the city built a picnic shelter and tables, and the firm of Carsey and Linskie designed an Art Deco bathhouse and boathouse. The city also developed a sandy swimmers' beach. Until 1935, the city administered a prison farm at the lake, and from 1935 to 1942, a Civilian Conservation Corps (Co. 2896) camp operated, building many facilities. During this same time the Works Progress Administration provided for many other improvements.

In the 1930s and 1940s, more than a half million people visited the lake each summer. During World War II, the former CCC camp became a U.S. Army Air Corps center and the site of a camp for German prisoners-of-war. A drought in 1953 caused the city to ban swimming and temporarily use the lake as water source. In 1958 the city passed an ordinance banning large outboard motors. This drove outboard enthusiasts to other lakes. The number of park visitors declined in the ensuing years, but revitalization efforts have led to increased park usage and a movement to preserve the park and its history.

(2005)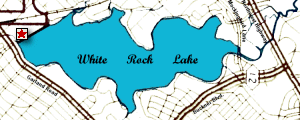 You can learn more about the Park's history at the White Rock Lake Museum located in the Bath House Cultural Center.


| | | |
| --- | --- | --- |
| Go Back | | Go Foward |