AUTHOR'S NOTE (17 July 2019): The biographies on this page are of families and individuals to whom I once believed I was related, or thought I might be, but now (thanks to DNA testing) I know for certain that I am not. However, Rather than delete them, I have made them available here for other researchers who might benefit from my efforts.
OTHER FAMILY HISTORY WRITING
TALES OF NORTHEAST TEXAS (The Babb Family)


By Arthur Babb (Edited by Steven R. Butler)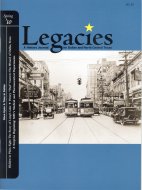 Henry "Dad" Garrett, inventor of the electric traffic signal and founder of radio station WRR in Dallas was my grand-uncle. Your are invited to read my article: Dad Garrett: The Wizard of Dallas, Texas, which was published in the Spring 2010 issue of Legacies: A History Journal for Dallas and North Central Texas.