The Ward Family

Ward Family
Mathew Ward | Morris Ward, Sr. | Morris Ward, Jr.

MATHEW WARD
(ABT. 1760 - ABT. 1840)

I cannot say with certainty whether the Mathew Ward mentioned in the preceding paragraph was the progenitor of the family from whom we are descended, or not. In any event, I am most certainly descended from another Mathew Ward, who was born between 1760 and 1770. probably in either Virginia or North Carolina. In 1790, the first year a federal census was taken, this particular Mathew Ward was living as a single man in Duplin County, North Carolina. Very little is known about him, but he came from a large family, apparently-there being several other heads of households named Ward who were also enumerated in Duplin County in the same census.


Duplin County was formed in 1750 from New Hanover County. Its seat was, and still is, the town of Kenansville-named for the family of Colonel James Kenan, who in 1765 led a group of volunteers from Kenansville to Brunswick to protest the hated British Stamp Act. Passed by Parliament in 1765, the act was repealed a year later after enforcement was found to be nigh impossible. The county was named for Lord Duplin, a British nobleman. Many of the earliest residents were Scots-Irish from Ulster who came to America under the patronage of Henry McCulloch-a wealthy London merchant who was granted large tracts of land in North Carolina by King George II.

Some researchers hold that Mathew Ward was actually born in Martin County, North Carolina, and that he is the same Mathew Ward who is listed on a roster of volunteers from Martin County that served in the Revolutionary War in 1779. Although it is certainly possible that Mathew Ward served in this capacity, I think more work needs to be done to ascertain whether the man named on the roster is the same as the Mathew Ward who resided in Duplin County after the war.

About 1792 Mathew Ward was married to Ann Ellison, daughter of Jesse Ellison, who in 1784 and 1787, was enumerated in the state census of North Carolina. At that time, he was living in Martin County, just west of Albemarle Sound and a few counties north of Duplin, which lends weight to the supposition that Mathew Ward was likewise a resident of Martin County. Ellison and his wife, whose name is unknown, had eight children: four each of boys and girls, one of which was Ann. In that same state census, five men named Ward were found living in Duplin County. Any one of three, Philip, William, or Daniel, could have been Mathew Ward's father. Unfortunately, early census records named only the heads of households. Jesse Ellison was one of those enumerated in the 1790 federal census for Duplin County, his name appearing immediately above Mathew Ward's.

Mathew and Ann Ward had at least five children: two boys and three girls-all of which were probably born in Duplin County.
Elizabeth Ward, born 1793; married Frederick Sasser
Robert Ward, born April 15, 1796; married Martha Bright
Nancy Ward, also said to have been born in 1796 (perhaps she and Robert were fraternal twins); married Hardy Hill
Morris Ward, born 1802; married Elizabeth Ann Wilson
Sarah Ward, born 1804; married James Best
Hallie Ward, date of birth unknown; married Henry Best
Francis, no information available regarding birth or marriage
On April 10, 1799, the State of North Carolina granted Mathew Ward 120 acres of land in Duplin County on the East side of the N. E. side of the N. E. Buck Marsh.
In 1808, Mathew Ward was named executor of the will of Jesse Ellison, who identified Mathew in the document as his son-in-law.
On February 4, 1808, for 476 Pounds, Mathew Ward sold 670 acres of land in Duplin County to William Turnage of Green County. This property had earlier been conveyed to him (Ward) by deed from Isaac Hines.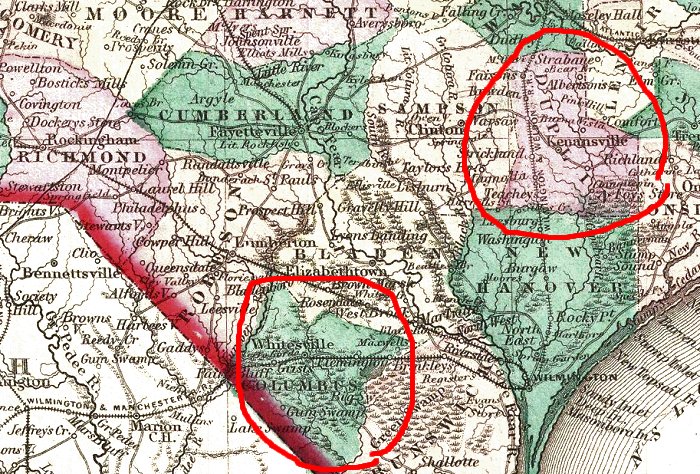 Map location of Duplin and Columbus counties, NC

It appears that sometime after selling his land in Duplin County, Mathew Ward and his family moved to Columbus County, North Carolina, the county seat of which is Whiteville. Founded in 1810, the town was named for James B. White, who gave land for the site of the first courthouse and jail. However, in 1810, the federal census-taker for Columbus County, North Carolina, listed only an "M. Ward" family consisting of four free white females under the age of ten, one free white female between ten and sixteen, and one free white female between the ages of sixteen and twenty-six. Since no males of any age are included in the enumeration of this particular family, it is unlikely to be the family of Mathew Ward. But where was he in 1810? He was not enumerated in Duplin County either.

In 1814, after moving to Columbus County, Mathew Ward, "planter," purchased 540 acres on the southwest side of Western Prong from Noah Allen, for $160. The following year, he also acquired, either by grant or by purchase, 150 acres of land located "on the west side of the White Marsh, joining his own lines & James Corbett Junr.'s line." On March 12, 1816, a warrant was issued, authorizing a survey, which was done on September 16, 1816. (The reason for uncertainty as to whether Ward received the land as a grant, i.e. for free, or paid for it is owing to contradictory documents in his file, one of which states that he "paid the Purchase Money" for this acreage. Another identifies the property as Grant No. 228 (on a card that, curiously, has "No. 227" written at the top). The word "grant" generally implies land that was acquired free of charge. A patent for this land was issued on December 17, 1816.

Unfortunately, information about a grant for an additional 320 acres on the west side of White Marsh was not recorded in any patent book, which means that it is possible that the grant was never actually issued.

The federal census of 1820 reveals that in that year the Ward household included: Matthew, who was then about fifty or sixty years of age; his wife, Ann, who was between 26 and 45; a son under 10, name unknown; two sons more than 10 and less than 16, names unknown; Morris, about eighteen, and Robert, about twenty-four daughter Sarah, under 10; a daughter between 10 and 16, name unknown; and Nancy, who was then about twenty-four. Mathew also had six slaves: 2 males under 14; one male over 45; two females under 14; and one female between 14 and 26.

The Columbus County, North Carolina federal census-taker of 1830 found the Mathew War household then consisted of one white male age 15 to 20 (probably Francis), one white male between 20 and 30 (almost certainly Morris), one white male between sixty and seventy (Mathew), one white female between 20 and 30 (most likely Sarah), and one white female between 40 and 50 (Ann). There were also seven slaves (two males under 10, one male between 10 and 23, one male between 36 and 54, two females under 10, and one female between 24 and 35).

In 1840 the Mathew Ward household consisted of only two free white people-Mathew and Ann-now both quite old, and four slaves (one male 24 to 35, one female under 10, and two females 10 to 23).

Mathew Ward died between the age of seventy and eighty-almost certainly in Columbus County-sometime between 1840 (the last federal census in which his name appears), and January 1846, when his wife, Ann, made out and signed a will, identifying herself as the widow of Mathew. Unfortunately, Mathew himself left no will and there is also no probate record of his estate. In Ann's will, she named only her son Robert Ward, a Hardy Ward (probably a younger son) and his unnamed wife, and an underage young man named Francis O. Millican (or Millikan), "who now resides with me," to who she bequeathed the sum of $100.
---
Ward Family
Mathew Ward | Morris Ward, Sr. | Morris Ward, Jr.
---
This website copyright © 1996-2019 by Steven R. Butler, Ph.D. All rights reserved.