The Ward Family
Ward Family
Mathew Ward | Morris Ward, Sr. | Morris Ward, Jr.
MORRIS WARD, SR.
(1802 - BEF. 1870)

Morris Ward, Sr., was born in 1802, probably in Duplin County, North Carolina. His parents were Mathew and Ann (Ellison) Ward. When he was a child, the family removed to Columbus County, North Carolina.
About 1831, probably in Columbus County, Morris Ward was married to Elizabeth Ann Wilson, a native North Carolinian born about 1813. She was the daughter of Edward and Rebecca Wilson, about whom little is known except that the family may have previously resided in Bertie County.
The first of Morris and Elizabeth Ward's children were born in Columbus County, North Carolina:
Robert Ward, born about 1832
Wilson Ward, born about 1833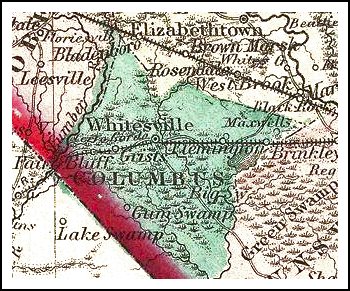 "Columbus County, North Carolina (from an old map)
Around 1836, perhaps a little earlier, Morris Ward, Sr. and his family, together with his wife Elizabeth's parents, moved to Pike County, Alabama. which is in the southeastern portion of the state. The town of Troy, founded in 1824, was, and still is, the county seat.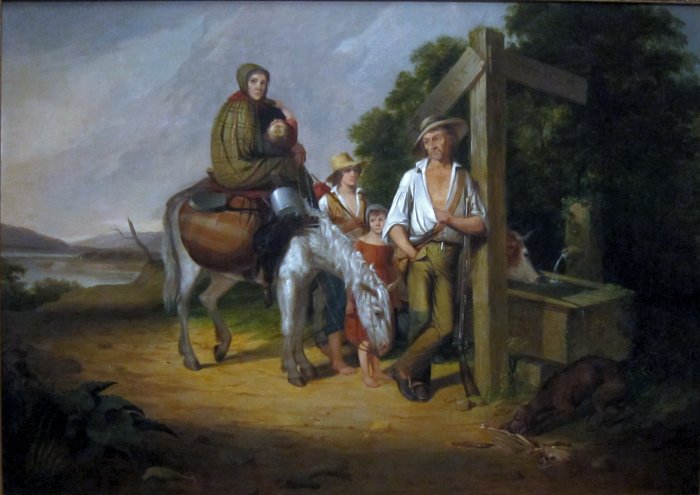 "Emigrants from North Carolina: Poor White Folks" (a painting by James Beard, 1845)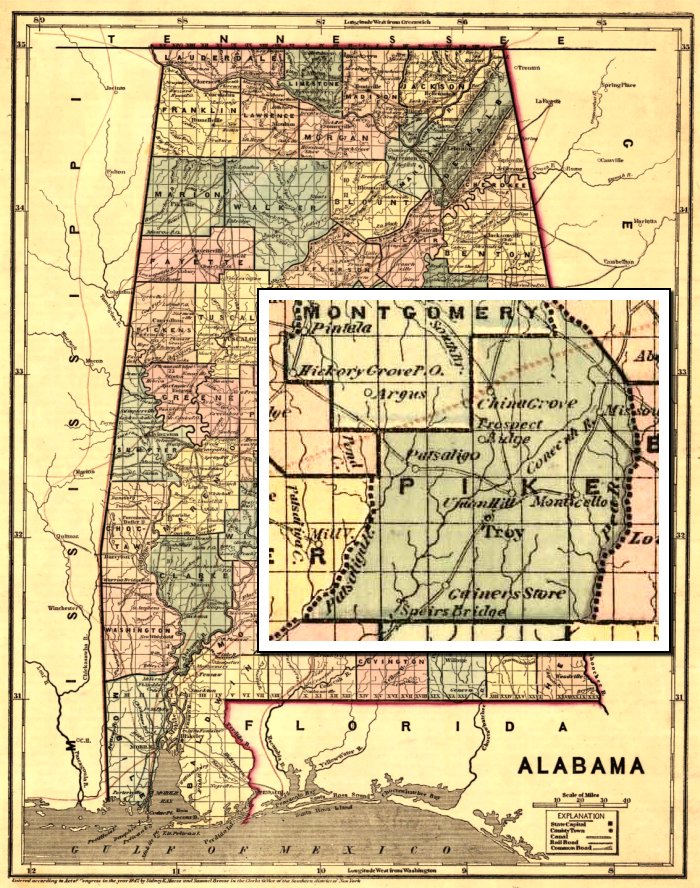 1848 Map of Alabama and Pike County
This move was not unusual. Many North Carolinians left the state during this time in search of new opportunities in the then-new states of Alabama and Mississippi. Although Alabama was admitted to the Union in 1819, much of it was not open to white settlement until after the Creek Indian War of 1836-1837, in which Morris Ward, Sr. took part as a private in Richburg's Company, Denson's Regiment of Alabama Volunteers for three months. Unfortunately, there seems to be no available documents detailing the service of this company and regiment.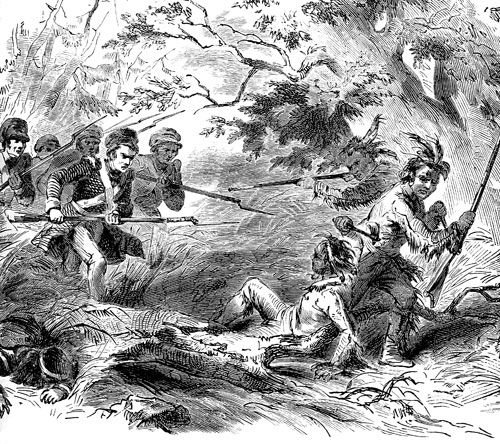 Creek Indian War
On May 15, 1837, under the terms of "an act of Congress of the 24th of April 1820, entitled 'An Act making further provision for the sale of the Public Lands," Morris Ward, Sr. received a patent, signed by President Martin Van Buren, for "the South East quarter of the South West quarter of Section Eight in Township Ten, of Range Twenty-one, in the District of lands Subject to Sale at Sparta, Alabama, Containing Forty Acres," in Pike County, Alabama. Lying about three miles east of the present-day Troy Municipal Airport and six miles due north of the city of Troy, on a map the now thickly-forested land is horizontally intersected by the Conecuh River and vertically by Manning's Creek. There is today a farmhouse within the bounds of this property, in a cleared area, at 439 County Road 7742, where the road ends. Perhaps this is the exact same spot on which the Ward family homestead once stood.
During the slightly more than twenty years that they lived in Pike County, Alabama, several more children were born to Morris and Elizabeth Ward:
William S. Ward, born about 1836
Henry Marion Ward, born about 1839
Alfred N. Ward, born about 1841
Elizabeth Ward, born about 1843
Morris Ward, Jr., born June 1846
Sarah Ward, born about 1853
Actually, the birthplace of Morris Jr. is uncertain. The federal census for both 1850 and 1860, which were taken when Morris, Jr. was a child and living at home with his parents, give Alabama as Morris Junior's birthplace, whereas the census for 1870, 1880, and 1900, when Morris Jr. was an adult, gives Florida as his place of birth. Which is correct? We don't know. Perhaps the Ward family lived for a short period of time in Florida? It is not very far from Pike County to the "panhandle" of Florida. Someone made a mistake, but who? Morris's parents? Morris Jr. himself? His wives? The census-taker? The 1900 census also says that his father was born in Ireland, which we know is an error. Until more evidence is found, if ever, the answer to the question will have to remain "uncertain."
Edward Wilson, Morris, Sr.'s father-in-law, died in 1848. We do not know when his mother-in-law, Rebecca, passed away or where.
When the 1850 federal census was taken, the agricultural schedule revealed that Morris Ward, Sr. had increased his land holdings a little, from forty to fifty acres, then valued at $500, and that he owned farm equipment or implements valued at $12. The census also showed that his livestock consisted of two horses, two milch cows, and nineteen swine, with a combined total value of $150. It further revealed that in the past year he had produced 100 bushels of Indian corn, one ginned cotton bale weighting approximately 400 pounds, 200 bushels of sweet potatoes, $10 worth of "home-made manufactures," and that he had slaughtered $80 worth of animals for their meat. He is not listed as a slave-owner, a fact which together with the modest size of his property and its output, places him squarely in that very large class of Southerners commonly known as "yeoman farmers."
On February 20, 1852, Morris Ward, Sr. received a second federal land patent, this time signed by President Millard Fillmore, as a "bounty" or reward for his service in the Creek War (or "Florida War" as it states on the certificate), under the terms of an act of Congress approved September 28, 1850. This grant was located "upon the South West quarter of the North East quarter of Section Seventeen in township Eight of Range Twenty-one in the District of Lands Subject to Sale at Cahaba, Alabama, Containing forty acres & two & a half hundredths of an acre." Likewise located in a rural part of Pike County, Alabama, this tract is today diagonally transected by Highway 21, and horizontally by FM 2261 and FM 2261, at the crossroads of which there is a tiny community called Henderson, consisting of a few modest frame houses in need or paint and/or repair, a volunteer fire department and a Baptist Church.
On April 4, 1857, Morris Ward, Sr. executed a mortgage note in favor of William N. and J. N. Henderson, who sold his Pike County property (the South ½ pf the Northeast ¼ of Section 36, Township 8, Range 19 and the North ½ pf the Southeast ¼ of Section 36, Township 8, Range 19) at the country courthouse door in Troy, on February 1, 1858. From all appearances, this was forced upon him by circumstances. The following summer, the country sheriff levied a fifa or lien on his property (the Northeast ¼ of the Northeast ¼ of Section 36, Township 8, Range 20) in favor of J. A. Henderson. By this time though, the Ward family had left Pike County. In either 1857 or 1858, they emigrated to Texas, settling in Upshur County, in the northeastern part of the state.
In December 1860, Morris Ward, Sr. applied to the State of Texas for a 3rd Class land certificate entitling him to 160 acres of land, swearing under oath that he was "bona fide settled and making improvements upon public domain of the state of Texas" and that he had "not previously taken or filed a preemption on vacant land under an act to authorize the sale of the public domain." The application was witnessed by one William Shepperd and H. E. Wilson in the presence of William C. Redfield, J. P. The property, which cost 50 cents per acre (for a total of $80), was "situated on the North Bank of the Sabine River, about 15 ½ miles S 47o W from the town of Gilmer." It was surveyed on December 24, 1861. A corrected survey, which determined that Morris Ward, Sr.'s property actually encompassed 162 acres (and a bit), was filed for record in 1862. It was almost certainly here that another daughter, Mary, was born in 1858.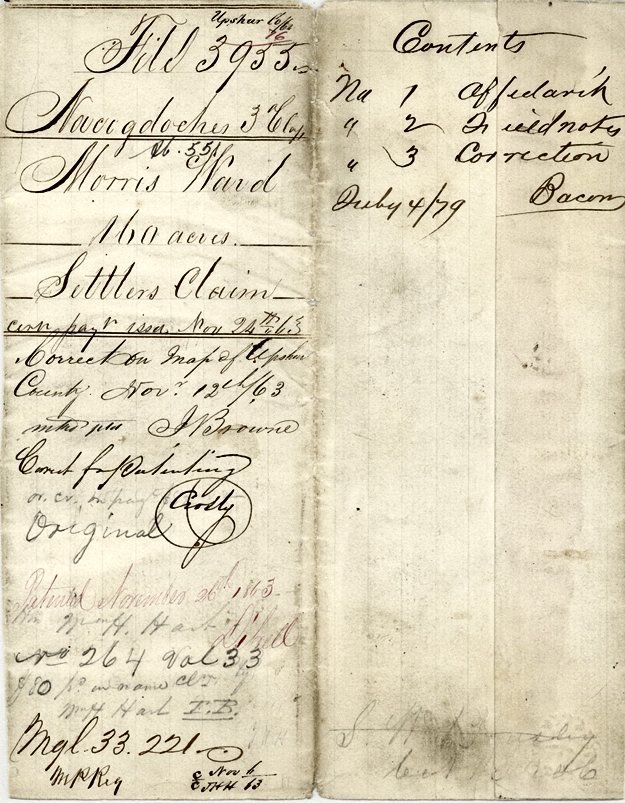 Texas 3rd Class Land Certificate for Morris Ward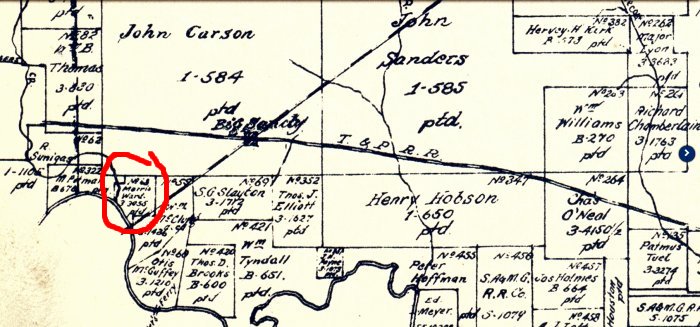 Map showing Morris Ward land grant on the north bank of the Sabine River
There is some evidence that Morris' son, Henry Marion War, also purchased land in Texas at this time, but although it is mentioned, by file number in two of the documents contained in Morris' file, curiously, no record of Henry's certificate can be found in the records of the Texas Land Office in Austin.
In 1860, the federal census agricultural schedule revealed that Morris Ward, Sr. owned 40 acres of improved land, with one horse, one ass or mule, two milch cows, and ten swine, together valued at $150. The type and value of crops he produced was unrecorded.
In 1862, despite the fact that he came from a non-slaveholding family, teenage Morris Ward, Jr. joined the Confederate army, serving as a private in the 28th Texas Cavalry (Dismounted). In 1863, he participated in the Battle of Milliken's Bend, near Vicksburg, Mississippi and in early 1864, he was taken prisoner at Fort DeRussy, Louisiana when the garrison surrendered to federal troops after a brief siege. After being exchanged in June or July 1864, he returned to his regiment and served, presumably, to the end of the war.
Neither Morris Ward Sr. or his wife are listed in the 1870 federal census. It is assumed therefore, that they both sometime before 1870. The location of their final resting place is unknown, but Chilton Cemetery near the town of Big Sandy, Texas is the most likely spot.
---
Ward Family
Mathew Ward | Morris Ward, Sr. | Morris Ward, Jr.
---
This website copyright © 1996-2019 by Steven R. Butler, Ph.D. All rights reserved.