The Jenkins Family
William Jenkins [1] | William Jenkins [2] | Francis Jenkins [1] | Francis Jenkins [2] | Francis Jenkins [3]
Lorenzo C. Jenkins | Thos. William Jenkins | William N. Jenkins
---
Francis Jenkins [1]
ABT. 1710?-BEF. 1770?
Francis Jenkins [1], a son of William [2] and Sarah (Cullen) Jenkins, was born about 1710, probably in Baltimore County, Maryland. As for his childhood, we know nothing except that he grew up on his fatherís tobacco plantation.
In 1721, when he was about eleven or twelve years of age, Francisí father died, probably as a result of some illness. His mother remarried the next year but her second husband lived only a few months, dying in April 1723. When Francis was about seventeen or eighteen, his mother married for a third, and probably final time.
Francis Jenkins lived with his mother and stepfather, William Gilpin, probably until he was about twenty-two years of age. On June 15, 1732, he was married in Baltimore County, Maryland to Mary Downs, whose parentage is unknown. Over the next seven years, they had the following named children together:
Sarah, born September 27, 1732
Francis [2], born February 1 or 5, 1734/35
William, born January 27, 1736/37
Mary, born August 31, 1739
Like his father before him, Francis Jenkins was a tobacco planter. Consequently, most of what we know about Francis Jenkins and his wife Mary comes from Baltimore County deed records. The earliest of these, dated May 1, 1739, informs us that for the price of 2,500 pounds of tobacco, Francis bought 67 acres of land on the north side of Deer Creek (probably near where he was then living) from two merchants, Isaac Webster and Jacob Giles, and their wives.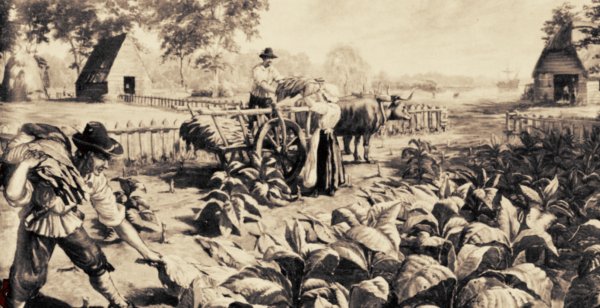 Above: Seventeenth century colonial tobacco planters.
On June 12, 1742, Francis Jenkins acquired an additional tract of 67 acres, called "Frankfort." Four days later he purchased an additional piece of property, 247 acres called "Jenkinsí Range." The price for both parcels is unknown.
On November 2, 1743, Francis and Mary sold one of his 67 acre parcels of land to another Baltimore County planter, Alexander Hill. The price: 5,000 pounds of tobacco. On November 17, 1750 he sold 237 acres on the north side of Deer Creek to Jacob Giles, mentioned above, for £42.
Baltimore County deed records also include four land transactions involving Francis Jenkins that are all dated April 29, 1752. The first shows that he sold 147 acres to John Rigdon for 12,000 pounds of tobacco. The second records the sale of an additional 100 acres to one James Billingsley for nearly £50. The third informs us that Francis purchased 31 acres of the north side of Deer Creek from James and Ann Balch for 5,000 pounds of tobacco. The last is a record of the purchase, by Francis, of the same 247 acres on the north side of Deer Creek that he sold to Jacob Giles two years earlier.
Our final record of Francis Jenkins [1], perhaps, is dated September 4, 1764. It involves the sale of two bonds in the amount of £232 that appear to have been made out originally to Jacob Giles by William and Francis Jenkins. On this date, Giles sold these bonds to Samuel Smith "of Deer Creek." However, because both William Jenkins [2] and Francis Jenkins [1] each had sons named William and Francis, who were adults by this time, we cannot be sure to which individuals this record refers.
Unfortunately, we do not know when or where Francis Jenkins [1] or his wife Mary died. My guess is that neither one lived to see the beginning of the American Revolution, which began in 1775. In all likelihood they are buried somewhere in that portion of Harford County, Maryland that was originally part of Baltimore County.
---
The Jenkins Family
William Jenkins [1] | William Jenkins [2] | Francis Jenkins [1] | Francis Jenkins [2] | Francis Jenkins [3]
Lorenzo C. Jenkins | Thos. William Jenkins | William N. Jenkins
---
This website copyright © 1996-2018 by Steven R. Butler, Ph.D. All rights reserved.