The Jenkins Family
William Jenkins [1] | William Jenkins [2] | Francis Jenkins [1] | Francis Jenkins [2] | Francis Jenkins [3]
Lorenzo C. Jenkins | Thos. William Jenkins | William N. Jenkins | William Ollie Jenkins
---
William Newton Jenkins
1881-1946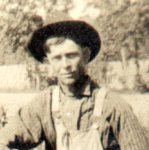 William Newton Jenkins, the fourth child and third son of Thomas William Jenkins and his wife Louisa, was born December 20, 1881 on a farm near the community of Powderly in Lamar County, Texas.
During the years when William Newton Jenkins was growing up on his parentsí farm near Powderly, one of the Jenkins familyís nearest neighbors was the family of Isaac F. and Ada Ann Morrison (see Morrison family), who came to Texas about 1885 from Kentucky. Both families were large and it seems that many friendships developed between their children. One of these friendships blossomed into love and in 1892 the two families were united by the marriage of Williamís older sister Emma Jenkins to Andrew Morrison.
On July 14, 1900, those families ties were strengthened further when nineteen-year-old William Newton Jenkins married Emmerine Morrison, who was not only seven years older than her husband (born July 25, 1874) but also had a child born out of wedlock, a two or three-year-old daughter named Lena May, who was deaf and dumb (or as some would say in this more enlightened time, "hearing and speech impaired").
Together, William Newton Jenkins and his wife Emmerine had three children: Lillie Pearl, born June 21, 1901; William Ollie, born June 7, 1902; and Isaac Newton, born November 15, 1903.
Sadly, the marriage of William and Emmerine was a short one. On March 4, 1904, not long after the birth of her last child, Emmerine Jenkins died at her home at Powderly, Texas of septicemia (blood poisoning). Whether this was the result of some injury or was related to childbirth we do not know. However, the latter cause seems the more likely. Emmerine was only twenty-nine years old at the time of her death.
A deed on file in the Lamar County courthouse in Paris, Texas reveals that in 1905, in consideration of the sum of $400, William Newton Jenkins purchased a 40-acre tract of land adjoining the property of his brother-in-law Andrew Morrsion and his father T. W. Jenkins. It was described as lying nine miles north of Paris, Texas (the county seat) and "east of the Texas & New Orleans R. R. survey." The seller was one R. E. Taylor, who, it appears, had entered into an earlier agreement with William for him (William) to pay for the property over time. This is the only deed I have been able to locate for William Newton Jenkins in Lamar County.
On June 30, 1909, a little more than five years after the death of his first wife, William Newton Jenkins remarried. His second wife was twenty-year old Mary Celeste Usleton (born February 8, 1889), with whom he had a fourth child, Roy Dulaney Jenkins. Sadly, the child, who was born April 14, 1910, lived only a few days, dying on April 25. No other children were born to this couple but "Lestie," as her husband called her, devoted herself to being a mother to her three stepchildren. In doing so, she became one of those rarest of human beings ó a stepmother who both loves and is loved by the children who she has taken to her heart.
It appears that after the death of his first wife, William Newton sent his own step-daughter, Lena, to live with members of her motherís family. In 1910, when she was about fourteen years old, Lena was living with her grandparents, Isaac and Ada Morrison. In 1920, she had a home with her brother Millard Fillmore Morrison and his family.
Sometime before 1910, William Newton Jenkinsí parents were divorced. In 1911, his father died. His mother died three years later. At the time of her death, she was living with William Newton and his family in Paris, Texas. Itís uncertain if their move from farm to city was permanent or temporary.
William Newton Jenkins and his family remained in Lamar County, until the early 1920s. Sometime prior to that date, his daughter, Lillie Pearl was married to Ernest Hayes. A few years later, on July 23, 1921, his son William Ollie Jenkins was married to Ida Lee Seay, the daughter of a neighbor. (see Seay family.) Isaac Newton Jenkins probably also married around this time.
In 1923 or 1924, for reasons that are uncertain, William Newton Jenkins and his wife Celeste moved to Muskogee, Oklahoma. It appears, however, that Celesteís family, some of whom were living in Muskogee at the time, were a factor in the decision.
William Ollie Jenkins and his family also moved to Muskogee. We do not know what his father did for a living but Ollie, as everyone called him, went to work in the Muskogee Iron Works factory.
The Muskogee City directory for 1925 found the entire Jenkins family ó William Newton, Celeste, as well as William Ollie and his family living at 920 Texas Street.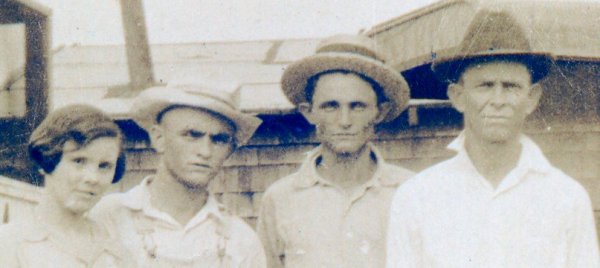 From left to right: Pearl Jenkins, Isaac Newton Jenkins, and Ollie Jenkins, with father William N. Jenkins; Muskogee, Oklahoma, sometime in the 1920s.
It appears that sometime before 1928, William Newton and Celeste Jenkins returned to Texas, leaving William Ollie and his family in Muskogee. They may have returned initially to Lamar County. However, by the early 1930s they had moved to Dallas.
After Ollie's wife Ida died of tuberculosis in 1934, he and his children also came to Dallas, where he was admitted to a sanitarium, it being suspected that he too had the disease. Whether he was actually suffered from T.B. or not is something I have been unable to determine. At any rate, he spent several months in the sanitarium, a collection of wooden barracks-style buildings located near the old Parkland Hospital on Maple Avenue. During that time, his children, two sons and two daughters, lived with their grandparents in South Dallas.
After Ollie Jenkins was released from the sanitarium about 1935 or 1936, it appears that he and his children continued to live with William Newton and Celeste until Ollie remarried in 1940. His second wife, whom his children seem to have adored, was Ola Mae McBride, a large woman with a heart to match her frame.
The Dallas city directory for 1940 found William Newton Jenkins and his wife Celeste living at 1724 4th Avenue in South Dallas. By this time, Williamís daughter Pearl and her husband Ernest G. Hayes, were also living in Dallas, at 2201 Macon Street. They later moved to Wendelkin Street. Ollie, Ola Mae and the children were living in a house on Pennsylvania Avenue.
It appears that William Newton Jenkins spent the remainder of his life working for the Sulsky Manufacturing Company in Dallas. On Tuesday, September 17, 1946 he died at the age of sixty-four. He was survived by his wife (who lived for nearly three more decades), sons William Ollie and Isaac Newton, both of Dallas, his daughter Pearl, also living in Dallas, his step-daughter Lena Morrison (who was then living in Leonard, Mississippi), and three sisters, all of whom resided in Paris, Texas. At the time of his death he also had seven grandsons, two granddaughters, and three great-grandchildren.
William Newton Jenkins was buried on Thursday, September 19, 1946 at Grove Hill Cemetery in Dallas. After his widow, Celeste, died on June 24, 1974, she was buried beside him.

---
The Jenkins Family
William Jenkins [1] | William Jenkins [2] | Francis Jenkins [1] | Francis Jenkins [2] | Francis Jenkins [3]
Lorenzo C. Jenkins | Thos. William Jenkins | William N. Jenkins | William Ollie Jenkins
---
This website copyright © 1996-2018 by Steven R. Butler, Ph.D. All rights reserved.