The Jenkins Family
William Jenkins [1] | William Jenkins [2] | Francis Jenkins [1] | Francis Jenkins [2] | Francis Jenkins [3]
Lorenzo C. Jenkins | Thos. William Jenkins | William N. Jenkins | William Ollie Jenkins
---
Francis Jenkins [3]
b. 1764-d. between 1825 AND 1830
Francis Jenkins [3] was the second child of Francis [2] and Cassandra (Grafton) Jenkins of Baltimore County, Maryland. He was born on December 15, 1764. Unfortunately, owing to a dearth of source material, our knowledge of him is sketchy at best.
Francis [3] probably spent his childhood, growing up on his fatherís tobacco plantation in Baltimore County. It is possible, but not proven, that he performed some military service during the closing years of the Revolutionary War, when he was sixteen or seventeen years of age.
Francis Jenkins [3] was married on August 4, 1800, at the age of thirty-five. In view of his age at the time, it may be that he was married previously and was a widower. This is just a guess, however. I have found no evidence to suggest it, apart from his age. His bride was seventeen-year old Dorothea Henrietta Maria Edmonston Orme, who was born in Maryland (some researchers say in Sharpsburg, Washington County) on October 15, 1782. Reportedly, she was the daughter of Robert Orme and his wife, Priscilla (maiden name: Edmonston). One source says Francis and Dorothea were married on the same date, but in 1799.
Tradition holds that Francis and Dorothea were married "near Eastern Shore" Maryland on August 4, 1800. One resarcher says that they eloped, which if true would explain why no marriage record can be found in any Maryland county. It might also explain why they left Maryland and went to live in South Carolina.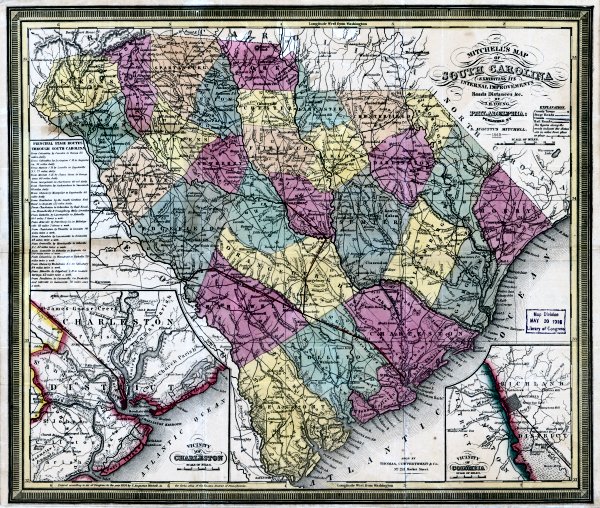 State of South Carolina
Francis and Dorothea resided in that part of Pendleton District, South Carolina that became Pickens County in 1826. This area is located in the mountainous, far northwestern corner of South Carolina. There, over the next twenty-five years, Dorothea gave birth to no fewer than thirteen children:
Cynthia Elizabeth Jenkins, born June 19, 1801
Andrew Jenkins, born June 14, 1804
William Jenkins, born December 12, 1805
Francis Jenkins, born October 29, 1807 (died October 31, 1809)
Thomas Jenkins, born May 27, 1809
Jesse Jenkins, born March 26, 1811
Eliza Jenkins, born March 1, 1813
John Milton Jenkins, born December 11, 1814
Lorenzo Clark Jenkins, born December 4, 1816
Alvin Jenkins, born September 26, 1818
Archibald Edmondston Jenkins, born April 29, 1820
Nancy Jenkins, born April 17, 1823
Francis James Jenkins, born February 10, 1826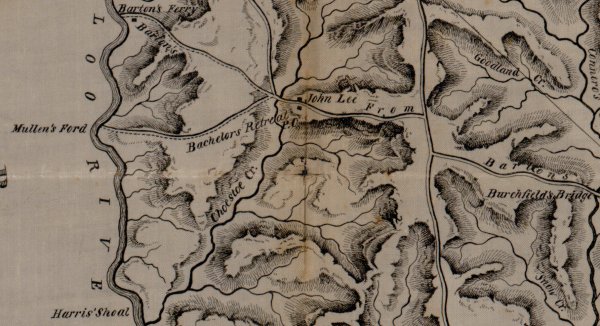 Map of Pendleton District, South Carolina, showing confluence of Tugaloo River and Choestoe Creek.
It is entirely possible that Francis and Dorothea went to live in South Carolina before 1800. Records of Pendleton District, South Carolina record the sale of 200 acres of land, "on Choestoe Creek of Tugaloo River," on May 20, 1799 to one William Jenkins. The deed was witnessed by a Thomas Jenkins and a Francis Jenkins. Could the second man named be "our" Francis [3]? We know that Francis Jenkins came to live in this same area, so it is entirely possible. Furthermore, Francis [3] and William did have a brother named Thomas. I therefore believe it is possible, if not likely, that these three men were members of our family.
On September 5, 1801, a man named John Gibson sold 167Ĺ acres of land in Pendleton District, South Carolina to a man named Francis Jenkins. The land was described as being "where Jenkins now lives on S. fork of Beaverdam of Toogaloe River, part of tract granted to Samuel Watt by Chas. Pinckney." As it happens, the purchaser was not "our" Francis Jenkins [3]. There was another Francis Jenkins who came to live in this area around the same time, who had a brother named James. Later land records reveal that James Jenkins had married a daughter of John Gibson. The presence of this second Francis Jenkins initially caused me no end of confusion, until I had the opportunity to carefully examine the records. It was only then that I realized that there were two men with the same name living in the same area at the same time. This, unfortunately, is not the only such case I have come across. Such instances are a family historianís nightmare.
Two years later, we find a Francis Jenkins as witness to a sale of land in the same general area, from Duncan McKinzie to Benjamin Hickman. We canít be sure, however, if this was "our" Francis [3] or the other Francis.
Not surprisingly, the 1810 federal census found two men named Francis Jenkins residing in Pendleton District, South Carolina. One was almost certainly "our" Francis [3]. The other Francis was probably the same Francis Jenkins referred to above, who had a brother named James. This same Francis Jenkins also had a wife named Polly and later conveyed land on the Oconee Creek of the Little River to a man named John Sharp, Jr. The 1810 census also enumerated the families of a Jesse Jenkins and a Thomas Jenkins. "Our" Francis [3] had brothers named Jesse and Thomas and these men were likely them. At this time, we do not know to whom the other Jenkinses found in this particular census ó Lewis, two Richards, and a man named Shepherd Jenkins, were related.
Although there were clearly two men named Francis Jenkins living in Pendleton District, South Carolina in the early 1800s, the 1820 federal census lists only one. Unfortunately, although the ages of the parents match what we know about Francis [3] and Dorothea, the ages and number of children do not. This means there was either some mistake on the part of the census-taker or that this entry was for the "other" Francis Jenkins. If so, where was "our" Francis? The answer is that he was probably there and that somehow, the census-taker did not find him. This was not uncommon. It was equally uncommon for some individuals to be listed twice (although that is clearly not the case here).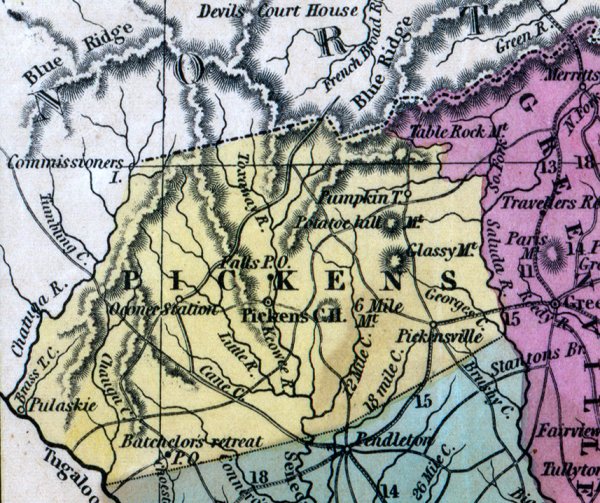 Map of Pickens County, South Carolina.
The 1830 federal census for Pickens County, South Carolina, which was carved out of Pendleton District in 1825, lists only Dorothea Jenkins, clearly "ours," and no Francis at all. Later census records for Pickens County (1840 and 1850) list both Dorothea and a Francis. For this reason, I assumed, for several years, that "our" Francis [3] and his wife had either separated or divorced. I now realize that this assumption was very likely mistaken. In the first place, divorce was uncommon during this period of our nationís history. Secondly, the available evidence make it clear that the Francis Jenkins listed in the 1840 and 1850 census records was the "other" Francis referred to earlier. My conclusion then, is that "our" Francis Jenkins [3] died sometime between 1825, when he fathered his last child, and 1830, when his wife, Dorothea, appears for the first time in the census as head of the household. The fact that this oouple's last child was named Francis suggests that Francis [3] died before the child was born.
Part of my initial confusion also arose from the fact that both "our" Francis and the "other" Francis had daughters named Eliza. In 1850, the first census which named all individuals in a household (rather than just the "head"), we find an Eliza Jenkins living in Pickens County, South Carolina with her father Francis, obviously taking care of him in his old age. He was then seventy-four years old. Elizaís age was twenty-four. "Our" Francis, if he were still alive in 1850, would have been eighty-five years old and his daughter Eliza would have been thirty-seven. We also know that "our" Eliza Jenkins married J. M. Dean and although we do not know the date of their marriage, itís a fair bet that it occurred well before 1850. The "other" Eliza Jenkins married a man whose family name was Stewart.
In one of those occasional instances mentioned earlier, Dorothea Jenkins was listed twice in the 1850 census for Pickens County, South Carolina. On page 401 we find her as the head of a household that includes Alvin, Archibald, and Nancy. Her age is given incorrectly as seventy. (son Andrew Jenkins and his wife Elizabeth are the family listed immediately preceding.) On page 415 of the same census, we find Dorothea listed once again, her age correctly given as sixty-eight, living with her son Archibald, who is named as head of the household, and her daughter Nancy. Alvin Jenkins is also enumerated twice. On page 409, he is listed as a head of a household.
Dorothea Jenkins died in Pickens County, South Carolina in 1855 at the age of nearly seventy-three. County court records dated June 28 of that same year provide us with a list of Dorotheaís heirs (Cynthia and husband Richard Dean, Andrew, William, Thomas, Jesse, Eliza and husband J. M. Dean, Lorenzo, Alvin, Archibald, and Nancy) as well as an inventory of her possessions. The former is revealing. We know, for example, that she kept bees (she owned several hives). We also know that she had five cows, two steers and a mule, that she spun and wove her own cloth (two spinning wheels and loom were on the inventory of items sold), and that she could read, presumably, since she not only owned a Bible, but also a dictionary, and a copy of "Witherspoonís Works." Because a petition by Jesse Jenkins to sell Francisí property, dated August 3, 1855, is included in the same file, some earlier researchers have come to the erroneous conclusion that Francis Jenkins [3] died in July 1855. This petition describes the land that Francis owned as 240 acres located "on Choestoe Creek water of [the] Tugaloo River adjoining lands of Richard Dean [a son-in-law, husband of Cynthia Jenkins] and Samuel Verner."
The estate of the "other" Francis Jenkins, who appears to have died about 1859, makes it clear that he was an entirely different person from "our" Francis [3]. The land he owned is described as "122 acres on Cane [or Cave] Creek waters of Little River." This property adjoined land owned by "W. H. Stribling, T. J. Hall, and others." None of the names of his heirs were the same as the names of the heirs of "our" Francis, with the exception of the aforementioned Eliza.
Presently, we do not know where Francis Jenkins [3] or his wife Dorothea are buried.
---
The Jenkins Family
William Jenkins [1] | William Jenkins [2] | Francis Jenkins [1] | Francis Jenkins [2] | Francis Jenkins [3]
Lorenzo C. Jenkins | Thos. William Jenkins | William N. Jenkins | William Ollie Jenkins
---
This website copyright © 1996-2018 by Steven Butler. All rights reserved.