The Jenkins Family
William Jenkins [1] | William Jenkins [2] | Francis Jenkins [1] | Francis Jenkins [2] | Francis Jenkins [3]
Lorenzo C. Jenkins | Thos. William Jenkins | William N. Jenkins | William Ollie Jenkins
William Ollie Jenkins
(1902-1971)
William Ollie Jenkins, the eldest son of William Newton Jenkins and his first wife Emmerine (Morrison) Jenkins, was born June 7, 1902 on a farm near Powderly, Lamar County, Texas.
Unfortunately, we know very little about Ollie's early years apart from the fact that his mother died when he was less than two years old, that he grew up on a farm in rural Lamar County, Texas with his father (William Newton Jenkins), stepmother (Lestie Uselton Jenkins), and an older sister (Pearl) and younger brother (Isaac Newton), and also that sometime before he reached adulthood, he underwent an emergency appendectomy.
Thanks to the magic of photography however, we know too that even though he was raised on a farm, the young Ollie Jenkins was something of a snappy dresser. One photo, taken when he was probably sixteen or seventeen, shows him wearing what appears to be an expensive three-piece suit while posing beside an equally well-attired girlfriend named Gussie, sitting on some sort of wooden structure next to a rural railroad line.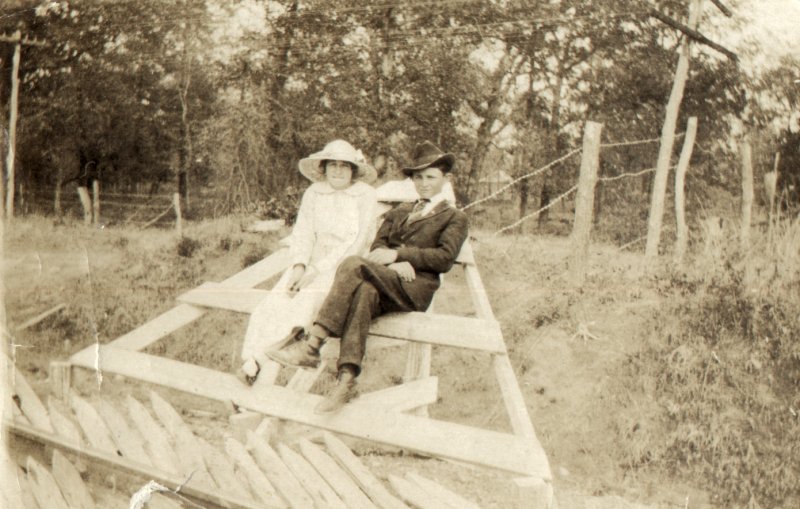 Another photo, probably taken a year or two later, shows a fresh-faced Ollie with hands on hips, smiling and proudly showing off dress trousers, white shirt and collar, a colorful tie, and what might be a brand new hat.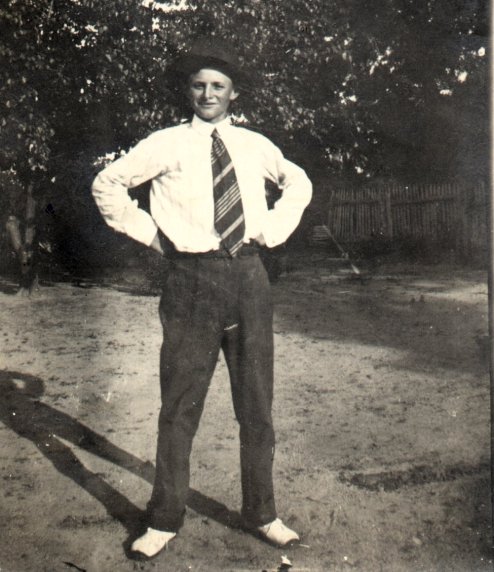 On Saturday, July 23, 1921, at the age of nineteen, William Ollie Jenkins married Ida Lee Seay, the seventeen-year-old daughter of a Lamar County building contractor named Matthew E. Seay (see Matthew E. Seay family). Unfortunately, the venue has been lost to history, but in view of the fact that the officiant was the Reverend N. C. Walters of Powderly, the New Providence Church, located about five miles northeast of Paris, the church to which Reverend Walters was attached, seems a likely spot. Of course, it's also possible that the wedding took place at the Jenkins home in Powderly or the Seay home. (see photo below, taken on their wedding day).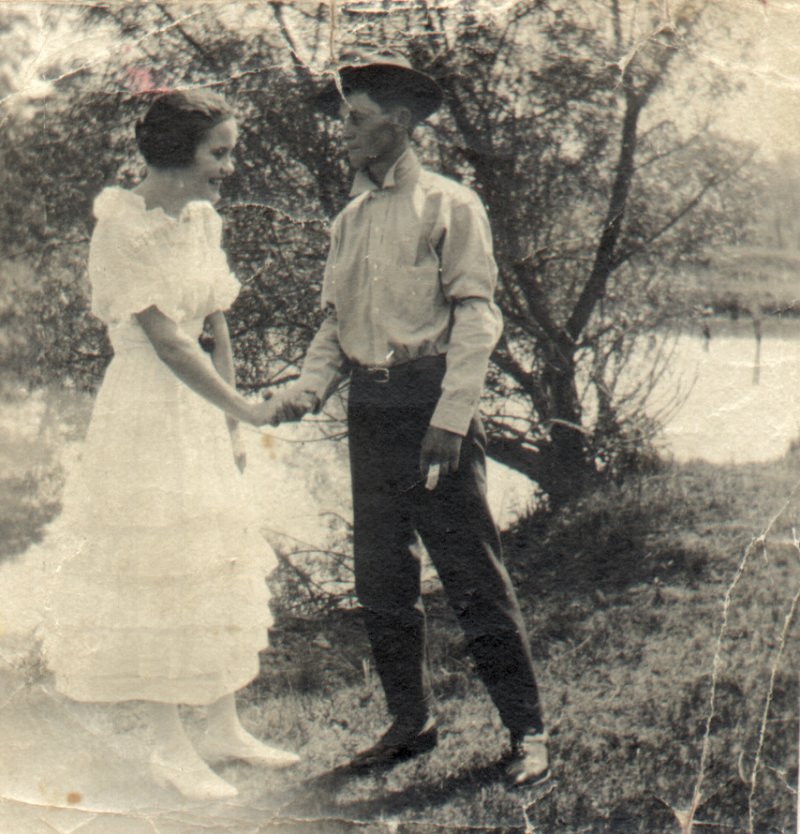 Over the course of their thirteen-year-long marriage, Ida and Ollie Jenkins had the following named children:
William Aaron "Jack" Jenkins, born June 27, 1922 at Sumner, Lamar County, Texas; died July 25, 2001 in Dallas, Texas.
Lindell Ray Jenkins, born June 26, 1925 in the Baptist Hospital, Muskogee, Muskogee County, Oklahoma; died September 26, 2000 in Ennis, Ellis County, Texas.
Emma Inez Jenkins (named for her two grandmothers, Emma Morrison Jenkins and Maggie Inez Ward Seay), born April 15, 1927 in Muskogee, Muskogee County, Oklahoma; died February 8, 2009 in Dallas, Texas.
Ida Louise Jenkins, born November 15, 1930 in Muskogee, Muskogee County, Oklahoma; died June 22, 1995 in Western Springs, Cook County, Illinois (near Chicago).
Elizabeth Ann Jenkins, born in April 1934 in Muskogee, Muskogee County, Oklahoma; died May 27, 1934 in Muskogee, Muskogee County, Oklahoma.
For a year of so after they were married, Ollie Jenkins and his bride lived with Ollie's Aunt Pearlee Margaret and her husband John Henry Cunningham, on a farm where they helped pick cotton. It's not known if they had a house of their own or resided with Ollie's aunt and uncle and their four children-two boys and two girls, the oldest of which weren't much younger than Ida and Ollie. It was here, on this farm near the little town of Sumner, Texas, located a few miles northwest of Paris, that Ida and Ollie's first child, William Aaron "Jack" Jenkins was probably conceived and then born on June 27, 1922.
Many years later, Ida's slightly-younger sister, Maude Seay Prince, recollected in a letter to Ida and Ollie's daughter, Inex, that following the birth of Jack, Ida was very ill and that she (Maude) helped take care of baby Jack until her sister was well enough to look after him on her own. In another letter to Inex, Maude also recalled that after Jack's birth, Ida and Ollie were separated for a little more than two years, during which time it appears that she lived with her parents, M. E. and Maggie Seay, in Dallas.
When she and Jack went to live in Dallas, Ida's father and mother, Matthew E. Seay and Maggie Ward Seay, were living at 2511 Idaho Avenue in the Trinity Heights Addition of Oak Cliff, a once-separate city that was annexed by Dallas some years earlier. Ida's younger sisters, Maude and Eunice, were still living with their parents and also her younger brother, Matthew Jr., better known as "Buck." Older brother, Jack, and his wife, Nancy, also lived there for a while. There are eight surviving photographs that appear to have been taken during this period. Two show the house (one from the front and one from the side). a nice, one-story frame dwelling with a wide porch on the front and one side, standing alone on a street where no other houses have been built yet. One of the photos shows Ida's mother, Maggie, and seven-year-old sister Eunice being attentive to baby Jack, who seems to be standing on his own two feet, which suggests that this photo was taken in 1923, when Jack was about a year old. Another photo shows baby Jack sitting on the ground next to the house with Eunice keeping an eye on him. The photo of the front of the house shows Ida's mother sitting on one side of the steps leading up to the porch, with Eunice on the other side. The side view of the house, taken from several yards away, shows, from left to right, Maggie, Eunice holding baby Jack's hand, Matthew Sr. and Matthew Jr.
One photo, taken on November 8, 1922, shows Ida, who was then nearly nineteen, laughing as she playfully takes the top position in an apparently impromptu dogpile consisting of her, her sister Nell in the middle, and another sister (Maude?) on bottom. Another photo shows Ida, standing of the steps of her parents' house in Dallas, wearing a dark dress, with one of her sisters (which one?) standing behind her, sticking out her tongue at the camera.
In 1923, Ollie and Ida were reunited and with baby Jack, they went to live in Muskogee, Oklahoma, to where Ollie's father, W. N. Jenkins, his stepmother, Lestie, and also Ollie's younger brother, Newton, also relocated. Newton was married in 1923, in Muskogee, to Bonnie Cason. Their first child, Orlan, was born in Muskogee in 1927. From 1923 or 1924, until 1927, the extended Jenkins family lived together in the same house, at 920 Texas Street, and later, at 2202 Sallie Street.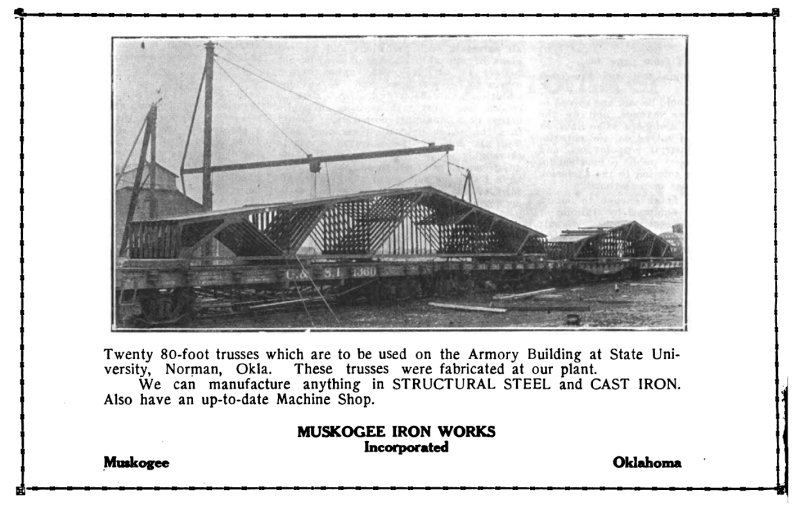 From The Employer magazine, May-June 1919.
If the promise of employment is what attracted Ollie Jenkins to Muskogee, he was not disappointed. Both the 1930 federal census for Muskogee County and Muskogee city directories confirm that Ollie's occupation during this period was "ironworker" or "steel worker." One of his father's jobs at the factory, remembered Lindell, was working in the "tool cage," checking out tools to other workers. Lindell recalled that for a while his father also operated an overhead crane that was used to load and unload the railroad cars parked on tracks that ran beside the sprawling ironworks, and that sometimes he would toss coins to Lindell and his older brother Jack, so that they could buy candy or go to the movies.
The 1930 federal census shows further that Ida's nineteen-year-old brother, Matthew E. Seay Jr., also known as "Buck," was living with her and Ollie their children, when they resided at 813 Texas Street, and that he too was employed as an ironworker. Muskogee city directories also reveal that Ollie and his family shared a house with his father and stepmother at 920 Texas Avenue until 1927 or 1928, when it appears that William Newton Jenkins and his wife Lestie returned to Texas, where by 1930 they had settled in Dallas. Interestingly, the Muskogee city directory does not identify Ollie's father as an ironworker, which suggests that he had some other type of employment while living in Muskogee.
During the years before his father and stepmother returned to Texas, remembered Lindell, Ollie had a short-lived partnership with his brother Newton and father William, selling ice-cream cones and hot dogs, probably at local sporting events and celebrations, from two refreshment wagons that they jointly owned. There are three photographs of these wagons, all of which appear to have been taken on the same day. One of these photographs shows Ollie and his wife Ida holding sons Lindell and Jack in their arms while posing in front of one of the wagons. A second photo shows William Newton Jenkins holding two babies, granddaughter Inez and grandson Lindell, while two slightly older boys, Ernest Hayes, Jr. and Ida and Ollie's son Jack, stand on either side of him. The third photo shows William Newton Jenkins with his two sons: Isaac Newton, and Ollie, standing together on his right, with the two ice cream wagons visible behind them. A woman seen standing beside Newton is his sister, Pearl.
| | |
| --- | --- |
| | |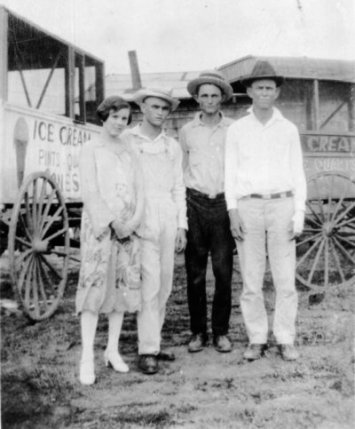 Newton Jenkins' residence in Oklahoma during this time is also confirmed by the 1930 federal census for Dallas, Texas, which lists he and his wife Bonnie with a son, Orlan, who was born in the "Sooner State" in 1927. It appears however, that the compilers of the Muskogee city directory somehow overlooked Newton.
During the nine or ten years they lived in Muskogee, the Ollie Jenkins family resided at no fewer than seven addresses:
920 Texas Street (address in 1925 directory) with W.N Jenkins
2202 Sallie Street (address in 1927 directory) with W. N. Jenkins
2006 Baltimore Avenue (address in 1928 directory)
813 Texas Street (address in 1930 directory)
2105 Monta Avenue (address in 1932 directory; Ida Louise born here in 1930)--next door to Jess Uselton at #2109
914 1/2 Dayton Street (address in 1934 directory)
1815 Augusta Avenue (Elizabth Ann and Ida died here in 1934)
Note: Directories not available for 1923, 1924, 1926, 1929, 1931, 1935; Ollie Jenkins not in 1936 directory; W. N. Jenkins not in 1928 directory.
All these addresses are in close proximity, in the southeastern section of the city, and all but the original Monta Avenue house were still standing in 1995. Since then, the house at 813 Texas Street and at 914 Dayton Street have also disappeared.
Jack, Lindell, and Inez all had vivid memories of their childhood in Muskogee, although they were still very young when the family moved back to Texas. Louise, who was only three-and-a-half when they left, understandably had no memories of the place. Of the three who remembered, Lindell and Inez were the most willing to share their memories, although they were not all pleasant ones.
According to the late Inez Jenkins Hickman, when her mother, Ida Lee, was pregnant with her last child, she was suffering from tuberculosis, which was even then sometimes referred to as "consumption." Already weakened by her medical condition, it appears that the rigors of pregnancy and childbirth were too much for her to body to bear. The baby doubtless suffered from her mother's condition as well and was probably underweight. She (Elizabeth Ann), was born in mid-April (the exact date has been lost to history) and died on May 27, 1934, at the age of about six weeks. She was buried in the children's' section of the Muskogee City Cemetery. The infant's mother lasted only a little longer, passing away at a little past 9 p.m. on Friday, July 20 of that same year, at the Jenkins family home at 1815 Augusta Avenue.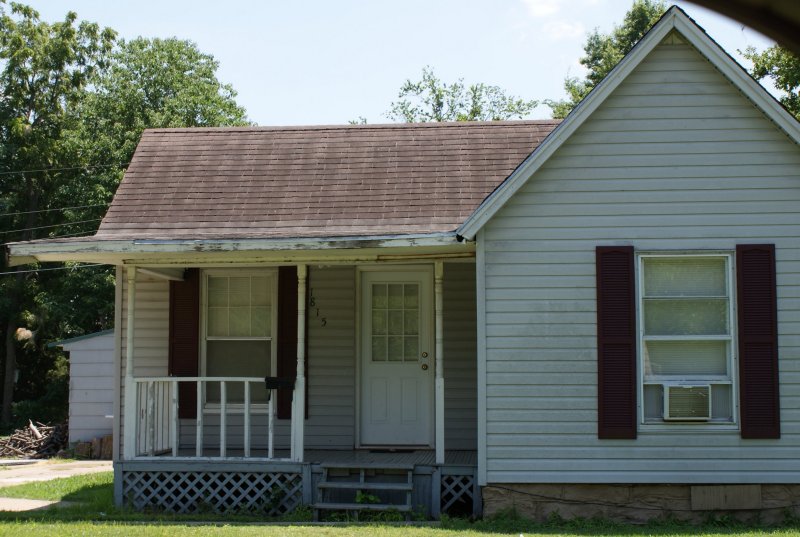 1815 Augusta Avenue, Muskogee, Oklahoma, the house in which Ida Seay Jenkins died on July 20, 1934; author photo (2010).
At 2 p.m. on Monday, July 23, 1934, on what would have been her thirteenth wedding anniversary, Ida Lee (Seay) Jenkins' funeral was held in the chapel of the Lescher Funeral Home, 611 West Okmulgee Avenue. Reverend Homer Strong of the Boulevard Christian Church officiated. In addition to her husband and children and no doubt some of the congregants from the church she regularly attended, some, perhaps all, of Ida's sisters and their husbands, who lived in Texas, attended the service. Her two brothers and their wives may have also attended the service. Inez never forgot a remark that one of her aunts made while she was sitting on the porch railing of the house on Augusta Avenue, waiting for everyone to leave for the service: "Don't fall off there. We don't need another funeral today! (or words to that effect).
Following the funeral service, which was no doubt replete with references to Jesus Christ and the resurrection in which Christians are taught to believe, Ida was laid to rest in a doe-colored casket at Muskogee's Frozen Rock Cemetery, a small country graveyard on the eastern outskirts of town. Unfortunately, the section, lot and grave number were not recorded and a headstone was not purchased by her husband or anyone else, until the 1990s, when Lindell Jenkins, who was only eleven years old when his mother died, placed three inexpensive markers at different times and in different locations in the cemetery, uncertain of the exact spot.


Frozen Rock Cemetery, Muskogee, Oklahoma; author photo (2019).
Return to Texas
Because it was suspected that William Ollie Jenkins also suffered from tuberculosis, the family returned to Texas, where Ollie was admitted to the Woodlawn T.B. sanitarium in Dallas (see photo below). He remained there several months, while his two daughters lived with their grandparents in South Dallas. During this time his sons lived with their Aunt Pearl and Uncle Ernest Hayes, who also resided in South Dallas.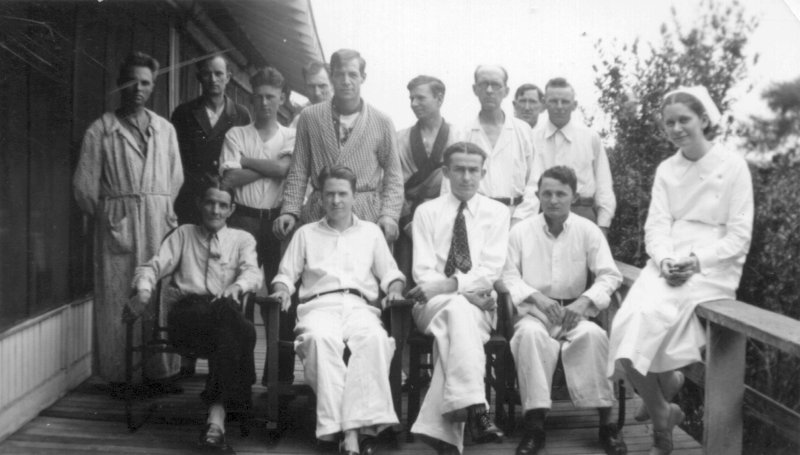 William Ollie Jenkins is sitting in a wheel chair, bottom row, next to the nurse.
When Ollie was released from the sanitarium about 1935 or 1936, it appears that he also moved in with William Newton Jenkins and his wife Celeste for a while. The family later had their own home, at 3303 Pennsylvania Avenue, just around the corner from William Newton and Celeste, who resided on 4th Avenue. A few years later, Ollie Jenkins' family moved a few doors down to 3311 Pennsylvania Avenue.
On January 20, 1940, William Ollie Jenkins remarried. From all reports, his second wife, a tall, somewhat lanky woman named Ola Mae McBride, was a good step-mother to his children and was adored by them. (That's Ollie in the middle, in the photo below, with Ola Mae immediately behind him.)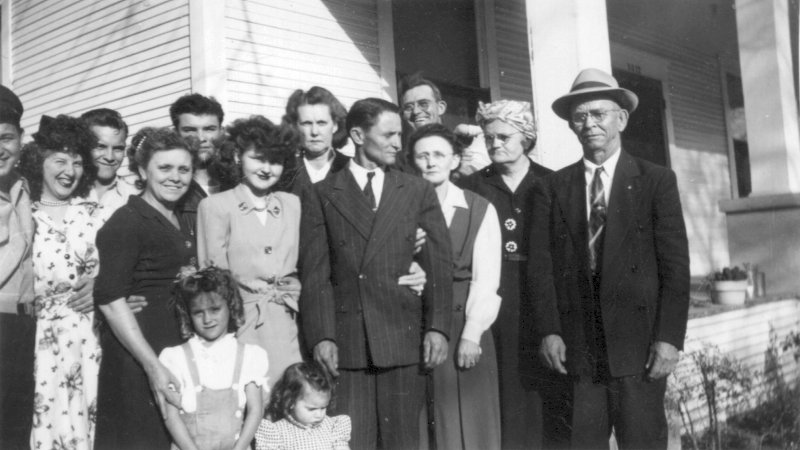 From left to right: Lindell Jenkins, Billy Fay Bopp Hayes, Joe Billy Hayes, Pearl Jenkins Hayes, two unidentified little girls, Reggie Hayes, Rosie Lee Townsend Hayes, Ola Mae McBride Jenkins, William Ollie Jenkins, Ernest Hayes, Lena Morrison, Lestie Uselton Jenkins, William Newton Jenkins. Location: Ernest and Pearl Hayes' house, 3612 Wendelkin Street, Dallas, Texas, about 1945.
At around this same time, Jack Jenkins, Ollie's eldest son, also got married. His bride was fifteen-year-old Geraldine Sheba Sharpe, a classmate at nearby Forest Avenue High School. Shortly after they were married, World War II began and Jack, eager to get into the fray, enlisted in the United States Coast Guard. Throughout the war, Jack served in the Pacific theater and was wounded in action. It was only after he returned from the war that he and Geri began a family.
Lindell Jenkins was also eager to serve his country. In 1943, he joined the United States Maritime Service. Like his brother, he served in the Pacific arena.
While their brothers were away fighting in the war, Inez and Louise (neither one went by their first names of Emma or Ida), continued to go to school in South Dallas.
A New Wife
Sometime in 1946, Ollie divorced his second wife, Ola Mae, which dismayed his children, who all adored her. His third wife was Alberta Lee Kelley (see photo below), a widow with two children of her own, Hubert and Patricia, who was about the same age as Ollie's daughter Louise. Ollie and Alberta Lee were married on January 25, 1947 in Rockwall, Texas. (Ola Mae wasted little time finding another husband, marrying a roofer, Eldridge Scott, whose nickname was "Scotty.")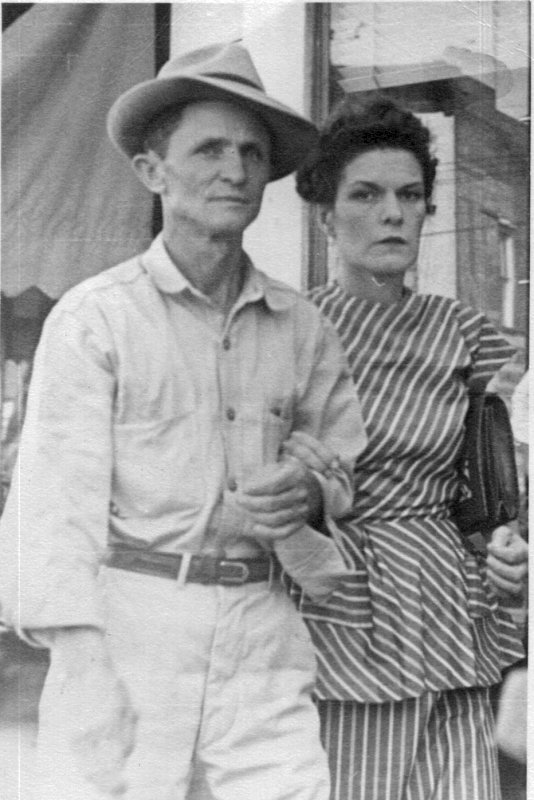 Step-sisters Inez Jenkins and Patricia Kelley also became friends and after graduating from high school and getting jobs, they left home together and moved in with Patricia's Aunt Irene Hagedorn, whose husband, Karl, had a leather business that his father, a German immigrant, had founded. Irene was Patricia's aunt and Alberta Lee's former sister-in-law. The Hagedorns lived at 6550 Bob O Link Drive, a few blocks east of Abrams Road and not far from the western shore of White Rock Lake.
Sometime probably after school was out for the summer in 1947, Ollie and Alberta Lee, along with Hubert and Louise, went to live on a farm in Ratcliff, Arkansas-a tiny rural community about thirty-three miles east of Fort Smith. According to Inez, Ollie and Alberta Lee were irresponsible parents who on one occasion left Hubert, who was about fifteen years old, and Louise, who was then sixteen, all alone for an entire week in Ratcliff while they traveled to Dallas to borrow some money from Inez (who was so startled one morning when she saw her stepmother tapping on the kitchen window of the house in which she lived, that she dropped a skillet). Later, Patricia Kelley went to live with her mother and stepfather in Ratcliff, leaving Inez in Dallas on her own. Probably because the Hagadorns were not her own relatives and possibly also because she could not afford to pay them rent, Inez eventually moved in with her Aunt Pearl and Uncle Ernest in South Dallas after Patricia went to Arkansas. Later that same year, or in 1947, following a brief residence in Sherman, Texas, Ollie, Alberta Lee, Patricia, Hubert, and Louise all returned to Dallas, where Ollie and Alberta Lee left Hubert and Patricia in the care of some of Alberta Lee's relatives and Louise joined her sister at her Aunt Pearl and Uncle Ernest's house at 3612 Wendelkin Street in South Dallas. Unencumbered with children, Ollie and Alberta Lee went to live in Corpus Christi, Texas. (Note: Worley's Dallas City Directory for 1947 shows Ollie and Alberta Lee living at 700 North Lancaster Street, in Oak Cliff (just a few blocks east of Lake Cliff Park. It is uncertain whether they lived there before or after their sojourn in Arkansas.)
Louise's memory of the above events corroborates most of what Inez recollected, but with some slight differences. Louise recalled that she and her father and stepmother (and stepbrother) were living in Sherman, Texas, not Ratcliff, Arkansas, when Ollie and Alberta Lee left her and Hubert on their own. Louise also said that it was not her father and Alberta Lee that brought her and her stepbrother back to Dallas but rather it was Inez and Patricia who came to get them. There is no way to know which version is the most accurate.
Ollie and Alberta Lee in Corpus Christi
Alberta Lee's mother, Leota B. Davis, had died in Dallas in 1944 and was buried at Laurel Land cemetery in Oak Cliff. It is uncertain whether Alberta Lee's father, George M. Davis, then went to live in Corpus Christi and Ollie and Alberta Lee joined him there, or if it was the other way around. In either event, it appears that the three of them--Ollie, Alberta Lee, and her father, George M. Davis--and also Alberta Lee's daughter, Patricia Kelley, lived together at 2800 Water Street (the Clover Leaf Tourist Camp, no longer standing), from about 1948 to 1950 or '51. During that time, George Davis died (in 1948), and was buried next to his wife in Dallas' Laurel Land cemetery.
Not much else is known about Ollie and Alberta Lee's sojourn in Corpus Christi, except that if photographs are any indicator, they enjoyed deep water fishing for sport, while Ollie almost certainly made a living as a painter and paper hanger, the same as he had done in Dallas.
Ollie and Alberta Lee return to Dallas
When Ollie and Albert Lee returned to Dallas about 1951, they took up residence at 728 E. 7th Street, in Oak Clff. In 1953, they rented rooms from Mr. Robert L. Slaten at 5601 Morningside Avenue (northeast corner of Morningside and Worcola), in the "M" Streets or Glencoe section of Dallas, between Central Expressway and Greenville Avenue). Their address(s) in 1954 is unknown because there are apparetly no extant city directories for 1954, but in all likelihood, they remained at the Morningside address because in 1955, Alberta Lee, listed simply as Lee, occupation housekeeper, is shown as still resididng at 5601 Morningside. Curiously, there is no separate listing for Ollie at any address.
In 1954, in the Dallas Morning News classifed ads, Ollie advertised his services at a painter and paperhanger.

The 1956 Dallas city directory shows Ollie and Alberta Lee living at 4618 Cowan Avenue, one block north of University Blvd. and about two blocks east of Love Field Airport.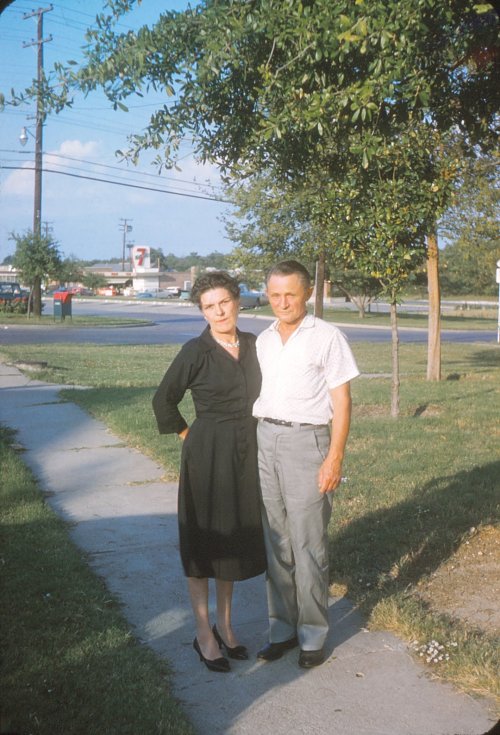 Ollie and Alberta Lee Jenkins, Dallas, Texas, about 1956 (exact location of photo unknown)
In 1957 they resided at 833 N. Ewing Avenue, Apartment A, about a block west of Burnett (baseball) Field in Oak Cliff.
The whereabouts of Alberta Lee and Ollie in 1958 and 1959 are uncertain. The 1958 Dallas city directory lists a Lee Jenkins at 1508 South Harwood Street, Apt. 6, but no W. O. or William O. with a wife named Alberta is listed. In the 1959 Dallas city directory there is a painter listed simply as Wm. Jenkins, at 3119 Kinmore, with no indication of wife's name. Are these listings for Alberta Lee and Ollie? Possibly.
Ollie and Alberta Lee Separate
We do know, however, that in 1959 or 1960, they went to Chicago, where Ollie had found employment. Alberta Lee reportedly did not like Chicago and returned alone to Dallas. Although there seems to be no record of a divorce, they never lived together again. By the summer of 1960, Ollie was living on the west side of Chicago, Illinois, in an apartment building at 202 N. Central Avenue, just a few blocks south of the Lake Street elevated train station. In 1964, he was living at 165 N. Central Avenue in Chicago. Dallas city directories show Alberta Lee living on her own in Dallas, or with her adult daughter Patricia Kelley Jetton and family, where she reportedly remained until 1981, when she went to live in Colorado with her daughter following Patricia's divorce from husband, Clyde Jetton.
During the summer of 1960, Ollie's youngest daughter, Louise, left her abusive second husband and with her two youngest children went to live in Chicago, initially in the same apartment building as her father. She ended up living in Chicago for the rest of her life.
During the last three or four years of his life, Ollie lived an itinerant life, alternating between Chicago and Dallas, where apparently for the sake of convenience, he used his sister Pearl Hayes' address in East Dallas when he opened a bank account on nearby Grand Avenue and renewed his Texas driver's license. Throughout this period he continued, as he had done since the late 1930s or early 1940s to make his living as a painter and wallpaper hanger.
Ollie's Final Days
On Friday, April 30, 1971, Ollie went to Chicago to visit his daughter Louise and her family-traveling from Dallas's Love Field to Chicago-O'Hare Airport on American Airlines flight number 274, coach class, seat number 23A. He returned to Dallas on Sunday, May 23, on American Airlines flight number 315, seat number 14D.
Monday, June 7, 1971 was Ollie's sixty-ninth birthday. A little less than a week later--Saturday, June 12--he was admitted to the East Dallas Hospital, 6003 Victor Street, where the following day--June 13--=he suffered a heart attack. He survived, but spent the next nine days recuperating. Sometime shortly after he was discharged on June 22, he returned to Chicago, where he moved in with Louise and her family.
On four occasions-July 3, 10, 23 and 30-Oak Park Illinois physician Dr. Kenning M. Anderson made house calls to check up Ollie, who now knew, of course, that he was suffering from cardiovascular disease. On September 16, Dr. Robert L. Tentler of Elmwood Park, Illinois gave him a neurological examination. Diagnosis: Superior cerebellar artery thrombosis, left.
On October 24, Ollie (or someone on his behalf) completed an application for admittance to the Royal Oak Convalescent and Geriatric Center, 625 N. Harlem Avenue, Oak Park, Illinois. That same day, Louise wrote a letter to her Aunt Pearl (Ollie's sister) in Dallas in which she told her, among other things, that the doctor had told Ollie "that T.V. was great entertainment for people who have to curb their activities, but Daddy told him he would rather go dancing." On her father's behalf, she also wrote a letter to one of Ollie's friends in Dallas, a Mr. Graham, to tell him "how much he appreciates your recent letter and wishes he could answer it himself." She added that her father had told her "what good neighbors you and Mr. Jones were and wishes he was back in Texas with you." Louise also wrote letters to some of her father's other friends in Dallas, as well as to "Uncle Jess," Pearl's second and now ex-husband, mentioning that she [Louise] and her husband Anton were due to leave on a Rhine River Cruise on October 29 and that she was thinking that instead of leaving her father at the convalescent home in Oak Park, where he would have only his teenage grandchildren to look in on him, she might fly to Dallas with her father and leave him in the care of her brother Jack, who had assured her that "Daddy would be comfortable in a nursing home near his [Jack's] house."
It appears then, that though it was quite clear that Ollie was ill, there was no reason to believe that his demise was imminent.
As it happened, Louise and her husband did not go on their planned vacation after all, nor did Louise take her father to Texas. On Tuesday, October 26, 1971, only two days after the above-referenced letters were written, William Ollie Jenkins passed away in his grandson Micah's bedroom, in the back of the second floor apartment where Louise and her family resided above her husband's appliance store on the west side of Chicago. He was sixty-nine years, three months, two weeks, and five days old.
Following his funeral, which was held at the nearby Peterson Funeral Home on October 28, William Ollie Jenkins was laid to rest in Woodlawn Cemetery, in Forest Park, Illinois. He was survived by his four adult children and eight grandchildren.
Alberta lee Jenkins died in December 1990 in Gunnison, Colorado. She was reportedly cremated. The dispostion of her cremains is unknown.
---
The Jenkins Family
William Jenkins [1] | William Jenkins [2] | Francis Jenkins [1] | Francis Jenkins [2] | Francis Jenkins [3]
Lorenzo C. Jenkins | Thos. William Jenkins | William N. Jenkins | William Ollie Jenkins
---
This website copyright © 1996-2021 by Steven R. Butler, Ph.D. All rights reserved.